RCNV Blog
Get in Trouble- Good Trouble, with Nonviolence...!  Interviews with Rep. John Lewis
9/1/16: Congressman John Lewis interviewed by Stephen Colbert on Get in Trouble- Good Trouble, with Nonviolence...  https://www.youtube.com/watch?v=6ATwisIrtfg
Excerpts below or click links to see the full Comedy Central videos from the August 8, 2016, Trevor Noah interview with Rep. John Lewis, GA,  on nonviolence. John Lewis has just released book 3 in his graphic novel /biography "March" series.
JOHN LEWIS – GETTING INTO TROUBLE TO FIGHT INJUSTICE
AUGUST 8, 2016 – JOHN LEWIS 
The sit-in was just the beginning. As long as I have strength in my body, I'm going to do my part to do what I can… ….I got into good trouble, necessary trouble….disarm hate… When you see something that's not fair, not just, when you see something that is not right, you have to do something. You have to move your feet and you have to be prepared to march…  the actions of Rosa Parks and words and leadership of Martin Luther King, Jr. inspired me… I couldn't get a library card…
JOHN LEWIS – CREATING A BLUEPRINT FOR PEACEFUL PROTESTS WITH THE "MARCH" TRILOGY
AUGUST 8, 2016 – JOHN LEWIS 08/08/2016
5 minutes, 34 seconds: 
"March" is a blueprint, a road map. It's for now, it's for the future. We're saying to the young people of American and the world. …Black Lives matter movement….Martin Luther King Jr. would be proud to see….
Say no to racism, no to hate. We must disarm hate and create what he called the beloved community. and redeem the soul of America, and  in doing so maybe we can redeem the soul of the world and save this planet…. 
…You were a founder of SNCC. That was specifically designed around nonviolence.
We studied, we prepared ourselves. We studied the life and teaching of Gandhi. We studied Thoreau and civil disobedience. We studied  about what was happening in South Africa. We heard about Mandela… and others. We accepted the way of nonviolence as a way of  life, as  a way of living. You know, during the  60′s  I was  arrested 40 times, and since I was in Congress another 5 times. And I'll probably be arrested for something else. But you have to be prepared. You may beat me, you may arrest me and throw me in jail…. I almost died on that bridge for the right to vote. I gave a little blood, but others gave their lives.
…The movement has changed.; the world changes. You were there. Part of what you were working for: voting rights act of 1965 coming to fruition.
Do you sometime think that Racism  is done., over? 
No never,
It's an ongoing struggle. Our struggle is not a struggle that lasts  a few days, a few months,  or a few years,  Its the struggle of a lifetime, maybe many lifetimes. But you must give it all. That's why our book "March"is saying: We must continue to move our feet. You must continue to push and pull. Not just to make America better but to make the world a little better.
..America is great. And we can make America greater. But we still have problems. We have states, North Carolina, Texas… trying to make it harder, more difficult (to vote). That's why the courts acted. They want to take us back.  …We've come too far, made too much progress to go back. …The vote is precious, it is almost sacred. It  is the most powerful nonviolent instrument or tool that we have in our democratic society. We should make it easy and simple for Everybody to participate. 
Autumn Sun took some nice photos at Bob's memorial in May, 2016:
https://www.facebook.com/autumn.sun.58/media_set?set=a.10208879829008074.1073741943.1085185228&type=3
Thank you to Eric Thiermann and Impact Creative for videotaping Bob Fitch's memorial on 5/27/16 at Peace United Church in Santa Cruz. See link to video below.
We encourage people to share it and download it to your computers if you want to save it.  It is about 2 hours long.
https://impact.wiredrive.com/present-project-gallery/token/0f02475caf0dccf023c458e4b4f029b8
HEAR a 2015 radio interview with Bob Fitch by Ruth Copland, from her "A Question of Balance" show. Scroll down to the bottom of this page to click the link:   http://www.itsaquestionofbalance.com/physical-community-interview-iconic-photographer-photo-journalist-bob-fitch/
Bob's memorial was a wonderful celebration and tribute to his life. Local singer/songwriter Aileen Vance began the service by leading Bob's version of the song "All the Good People." Good friend Brian Murtha emceed. Bob's daughter Ma Ka Wa Alexander, sons Jaxon Raven and Ben Fitch spoke, and Ben sang a song. California  State Senator Bill Monning remembered Bob's work with the United Farm Workers and connected with him through the Resource Center for Nonnviolence. Assemblymember Luis Alejo remembered Bob's active support in Watsonville. Bob's son Jaxon Ravens, chairman of the Democratic Party in Washington state, read a statement from Bernie Sanders, who knew Bob during the civil rights movement. Bob's partner Karen Shaffer shared memories and led the group in singing one of Bob's favorite songs: "Get Up and Go". Martin Luther King, Jr.'s close colleague and lawyer Clarence B. Jones spoke about Bob's impact on the civil rights movement. Numerous community members, including former RCNV staff member Sandino Gomez and many friends shared their reflections about Bob's impact locally, regionally and nationally. A potluck and contradancing followed the memorial.
A Tribute to Our Friend, Photographer and Organizer Bob Fitch
By Josh Sonnenfeld
There are two images that come to mind when I think of Bob. The first is of Bob, on the ground, with his back on the pavement of a road somewhere in between the California farming communities of Watsonville and Salinas, clutching his camera in his hands, capturing photo after photo as hundreds of people march over him – part of a "Peregrinación Por La Paz" – pilgrimage for peace, for immigrant rights, and against militarism. This was during the height of the latest Iraq war in the mid-2000's.  The march was led by Fernando Suarez del Solar, the grieving father of a Marine who died in Iraq, who committed his life to make sure no parent ever had to feel the way that he did. I had come along on the trip with Bob, acting as both an assistant and a fellow photographer, but mostly just as a friend, and I was slightly terrified seeing my then 65-year-old friend on the ground, at risk of being trampled.
Bob always told me that, "You've got to get closer" to those you are taking pictures of. He meant that both physically, in this case, but also, I believe, emotionally. To him, his life-long commitment to social justice and community wasn't just a political act or a profession – it was a deep act of love. Those that he struggled alongside over many years – through the civil rights movement, peace movement, farm workers movement, Catholic workers movement, and many others – weren't just allies, they were his friends, his lovers, his family.
Documenting these movements to him, was ultimately about documenting people. Everyday people of all ages and backgrounds who did courageous things – who faced down police, the Klu Klux Klan, and armed thugs – but also people who, like all of us, had real flaws: ego, infidelity and chauvinism, shortsightedness and more. Bob understood that our movement leaders, people like Dr. Martin Luther King Jr., Cesar Chavez, Dorothy Day, Fathers Phillip and Daniel Berrigan, Joan Baez, and many others were both extraordinary people, and also real people – people who laughed, and cried, goofed around, and who made mistakes. Bob also knew that these leaders came out of a particular social context, and that movements were made up of thousands of people – thousands of leaders – whose names most of us will never know. Bob made it his life's mission to tell the stories of not just those leaders whose names are remembered, but also the "foot soldiers" of these movements that transformed American life.
In many ways Bob was one of those foot soldiers himself. Experiencing some of the most transformative moments of mid-to-late 20th century history in the U.S. through the lens of a camera, Bob was an incredible and savvy observer. He understood how these movements were organized, the personal struggles and success stories of our leaders and their families, and also the magic that could be produced from "movement moments" – those times when the distance between reality and what is possible come closest – such as the March on Washington in 1963, where Bob took one of several iconic photographs of Dr. King.
When I met Bob as a 17 year-old high school senior in the run-up to the Iraq war, Bob had gone beyond the camera and was applying the lessons he had learned through many years as a staff member for the Resource Center for Nonviolence in Santa Cruz, California. With a keen eye for leadership, Bob spotted me as I was working with my fellow high school students to convince our school board to limit military recruitment on campus. Bob quickly pulled me under his wing, and over the next several years, taught me much of what I know about community organizing, and about friendship. A constant learner and reader, Bob gave me my first books on organizing – classics such as Saul Alinsky's "Rules for Radicals", George Lakoff's "Don't Think of an Elephant," and, most impactful on me, "The Long Haul," the autobiography of Myles Horton, the founder of the Highlander Folk School, which has trained generations of organizers since its founding in the early 1930's. More than just sharing books, however, Bob was a storyteller, sharing with me and many others the many lessons that he picked up from the variety of movements that he was a part of.
One of the best lessons I learned from Bob, however, was not about how to be a strategist, or effectively pressure decision-makers, but about how to show up. Bob understood the responsibility that came along with being a person of privilege (or, as he would describe himself, "a big, loud white guy") in a society with deep levels of oppression, and saw the real need – and incredible power – when leadership came from the communities most impacted by the problems we face. He believed that the best way for a person of privilege to support community struggles is to show up, do the dirty work (stacking chairs, washing dishes), and to have a skill to offer that could be of use by the community. Like all good teachers, Bob gave this lesson most by his own example – and I struggle to remember any event Bob and I went to where he didn't end the night with a mop in his hand, or happily moving tables from one side of the room to the other.
Beyond doing the dishes, photography was Bob's skill that he could offer – and he did so with incredibly regularity and personal sacrifice over many decades. He understood that by taking photos, he was providing a service, allowing a more true story to be heard, amidst the spin of our opponents and distortion of the mainstream media. He knew that his job was to show up, "keep his mouth shut," and "DFIU" (don't 'mess' it up). His approach, in turn, engendered a deep level of trust by almost all with whom Bob worked – to the point that they would open up their lives, families and struggles for Bob to document. This makes Bob's photographic archives (now stored at Stanford University, free for all to download and print – at his insistence) one of the most incredible and deeply personal records of social movement history in the U.S. over the past 50 years.
The second image that comes to mind when I think of Bob is of that grin. Bob was always so full of life, and "mischievousness" as he liked to describe it. He took Emma Goldman's quote," If I can't dance, I don't want to be part of your revolution" literally – and any efforts he was going to be involved in certainly was going to involve a lot of dancing.  Bob was a contra dancer for decades at his local granges, but more than anything he was a constant jokester. I can't think of Bob without smiling and laughing, because that's pretty much what I was doing the whole time we were together. He had an infectious spirit, and incredible energy – dancing, playing guitar, singing, and boogie boarding in the Monterey Bay until his Parkinson's eventually got in the way. His humorous spirit was also incredibly disarming, crossing cultural and linguistic boundaries, and building friendship and trust wherever he went.
I trust that for many decades, I will continue to meet friends of Bob's that I never knew he had – each one with an incredible story to share about how they met him, a lesson that they learned from him, and a deep appreciation for this man who gave so much to so many, and whose images and impact will be seen and felt for many generations to come. We love you, Bob.
Bob Fitch, ¡présente!
—
Josh Sonnenfeld is a graduate of the University of California, Santa Cruz, and is a former staff member of the Resource Center for Nonviolence. He lives with his wife Rachelle in Oakland, California, where he works with the Sierra Club to build powerful movements to protect the places and that we love.
—————————————————-
Remembrance of Bob Fitch
By Paul Ortiz, May 23, 2016
I first met Bob Fitch in person through our work together at the Resource Center for Nonviolence in
Santa Cruz in 2001. Of course however, I knew of Bob through his remarkable movimiento photographs
of generations of activists in the United Farm Workers, the Southern Christian Leadership Conference,
the Student Nonviolent Coordinating Committee and many other social justice movements. What we
learn about Bob through these photographs is that what matters is the people, our struggles for justice,
and our willingness to listen to each other and to work for a better world.
Bob Fitch's photographs preserve and promote the best and most difficult moments of each social
movement that he participated in. In doing so, he left us with important pieces of the puzzle on how we
can keep the struggle for justice alive and well. In Bob's photographs, we see the heroic fortitude of an
individual resistor like Dorothy Day who defies the police to cross her path; however, we also see the
agony of people brutalized and mistreated by the cops on picket lines and protests.
We see moments of painful, interior reflection of a father, Fernando Suarez del Solar, as he agonizes
over the loss of his son in the Iraq War. Bob was equally adept at capturing moments involving
thousands of people—the masses in motion!—on International Workers' Day, 2006, the Great American
Boycott, when Latina workers across the nation said ¡Basta Ya! (Enough is Enough!) to racism, labor
exploitation, and anti-immigrant laws.
Bob Fitch's photographs honor the dignity and humanity of every individual life at the same time he was
able to preserve the magical moments when people wove themselves together into powerful forces for
change. Yes, these documents tell us much about the abuse of authority. Certainly, we learn about the
power of the state, of corporations, of the armed police to suppress and crush the aspirations of
working class people. Equally important however, we learn of the strength of hitherto powerless people
to come together and demand living wages, union contracts, immigration rights, Black Power, and end
to war, and so many other life-affirming causes.
What is my favorite Bob Fitch photograph? I love Bob's recent series of photographs of Luis Alejo, a man
Bob described as a [quote] "Watsonville 'home boy' who has the charisma and organizing skill of Martin
Luther King or Cesar Chavez." I love this series because it was Bob's way of saying that the movement
for justice has a lineage, and it is always beginning anew in the shape of thoughtful people working
together for change.
Here's another favorite. When Daniel Berrigan recently passed away we all were treated to Bob's
remarkable photo of Father Berrigan flashing a peace sign in handcuffs, smiling his smile that says: "As
long as war exists we are going to resist; in joy, not in revenge. In peace, not in violence. In love, not in
hate." "We defy authority," that smile says, "because to be human is to be in conflict with the agents of
the state who put us at war with our brothers and sisters." ¡Basta Ya! Enough is Enough!
That smile, which was so much a part of the beautiful Daniel Berrigan, was the smile I saw the first time I
had the honor to meet Bob Fitch and it was always there whenever I and Sheila had the privilege to
work with Bob during our wonderful years in Santa Cruz. Bob mentored countless students at UC-Santa
Cruz in the ways of seeing the world, and he was there with us on that wonderful day on May 1, 2006
when our students shut down the campus in the cause of human rights and immigrant justice.
Again, we remember so much of that remarkable day through Bob's insightful photography. His
photographs depicted picket signs with affirmations like "This Nation Was Built by Immigrants!" "Don't
Split Immigrant Families Apart!" and "Let us be part of the American Dream." The Mexican flag and the
American flag fly proudly together, not separately.
As these photos eloquently demonstrate, we now remember some our best moments in struggle
through the images and words of our hermano, our brother Bob Fitch. We honor to his memory by
supporting today's movement photographers, by nurturing the journalists and the movement organizers
who tell the people's stories today—and by nurturing each other in loving resistance to the forces of
economic injustice, militarism, and oppression everywhere.
In Solidarity,
Paul Ortiz and Sheila Payne,
Gainesville, Florida.
Paul Ortiz taught at UCSC and he served on the Resource Center for Nonviolence Steering Committee. Both Paul and Sheila were active RCNV volunteers and community activists in Santa Cruz until their move to Florida in 2008. Paul now teaches at the University of Florida Department of History. Professor Ortiz is also the Director of the Samuel Proctor Oral History Program. He is also the author of several books, including "Emancipation Betrayed: The Hidden History of Black Organizing and White Violence in Florida from Reconstruction to the Bloody Election of 1920."
Daniel Berrigan, former resident activist at RCNV in our founding year, widely known nonviolent resister, poet, author, social critic, Jesuit priest, and with William Stringfellow a significant donor towards the RCNV remodel, died April 30, 2016 at age 94.
New York Times article about Dan Berrigan:http://www.nytimes.com/2016/05/01/nyregion/daniel-j-berrigan-defiant-priest-who-preached-pacifism-dies-at-94.html?_r=0
http://www.newyorker.com/news/news-desk/postscript-daniel-berrigan-1921-2016
The Resource Center for Nonviolence, founded in 1976, had a rich history with Daniel Berrigan. Dan Berrigan was the first "resident" at RCNV in April, 1977. The residency program brought people committed to nonviolence to stay for a period of time to share in the life of the Center. Dan spent a month meeting with classes at UCSC, offering several workshops, public lectures, poetry readings, and meeting people informally. He spoke to several hundred people at Page Smith's "Penny University" at Cafe Pergolesi in Santa Cruz.
Over the years, the Resource Center for Nonviolence maintained a close connection with Daniel Berrigan. He visited several times in those early years, and baptized Ben Kennedy (son of Scott and Kris Kennedy) and Isaac Klotz-Chamberlin (son of Peter and Liz Klotz-Chamberlin) in 1979.  Scott Kennedy was a one of a few trustees for the estate of  theologian William Stringfellow. Stringfellow owned a cottage on Block Island, RI.  Dan was one of the Catonsville Nine, whose members doused Selective Service files in Catonsville, Maryland, with napalm. After Catonsville, Dan had gone underground, eluding the F.B.I. for four months before he was captured on Block Island in 1970. Dan Berrigan continued to live on the Block Island property until only a few years ago. Proceeds from the sale of that property benefited the Resource Center's Building for the Future campaign.
Evidence for the Prosecution
The boxes of paper ash      The size of infant caskets     Were rolled in on a dolly,    Heaped there like cord wood    Or children after a usual      Air strike on Hanoi.    I heard between heartbeats     Of Jesus and his hangman    The children's mouths mewing    For the breasts of murdered women     The blackened hands beating    The box of death for breath.
— Daniel Berrigan, "The Trial of the Catonsville Nine"
Poem by Dan Berrigan written on the wall of Peter and Liz Klotz-Chamberlin's house, 1977
Then
Showed me he
in his right hand
every thing that is
The hand was a woman's
Creation, all, lusty,
A meek bird's egg
Nesting there, waiting
a word,
and I heard it
Newborn, I make you
Nestling, I love you
Homing, I keep you
The world lost an amazing organizer, Bob Fitch,  on Friday, April 29, 2016. Bob was 76. Below is a brief snapshot of Bob's activism with the Resource Center for Nonviolence. For more about Bob, his life and photos, see BobFitchphoto.com    A memorial for Bob will be held on Friday, May 27, 2:00PM at Peace United Church of Christ, 900 High St., Santa Cruz, CA followed by a potluck reception. To volunteer at the event, or for more information, contact RCNV: 831-423-1626.
Obituary written by Bob: Santa Cruz Sentinel 5/3/16:  http://www.legacy.com/obituaries/santacruzsentinel/obituary.aspx?n=robert-dewitt-fitch-bob&pid=179857270&fhid=24160
New York Times Obituary: http://www.nytimes.com/2016/05/04/arts/bob-fitch-photojournalist-of-civil-rights-era-dies-at-76.html
Santa Cruz Sentinel Story about Bob 5/3/16:  http://www.santacruzsentinel.com/obituaries/20160502/bob-fitch-1937-2016-progressive-activist-chronicled-historical-movements-as-a-participant-and-observer
Link to 2002 audio interview with Bob Fitch by John Malkin on his radio program "the Great Leap Forward" : http://www.radio4all.net/index.php/program/86507
A lifelong labor and workers rights activist, Bob Fitch had a stellar career as a photojournalist and was a low-income housing organizer with the state of California for a decade before joining the Resource Center for Nonviolence staff. He served on RCNV's staff from 1999 – 2006.  Bob first connected with RCNV co-founder Scott Kennedy at UC Santa Barbara in the 1970′s. Bob continued as a volunteer after 2006. He was the Resource Center's Volunteer and Outreach Coordinator, but also organized many key programs, assisted with fundraising, and documented RCNV events with his photos. Bob lived upstairs at the Resource Center for several years and served as the unofficial on-site host and chief mischief maker. He was a mentor to countless young people and a role model for us all.
Bob described himself in a 1999 Resource Center for Nonviolence document "as a community organizer, photojournalist, labor union activist, and low-income housing developer. Bob has contributed over 40 years of work to various local and nation-wide campaigns for peace and social justice. A singer and writer for folk songs, Bob draws from movement and personal history to bring down to earth and spirited music to numerous RCNV meetings and events."
Bob was an impressive organizer. He set up RCNV's website, streamlined and perfected RCNV's outreach and media connections, and pushed us all to be better activists. He was active with the Center's GI Rights Hotline (DAMIT- Draft and Military Information Team) where counselors provide alternatives to the military. He was instrumental in bringing the Santa Cruz City School's Opt-In program to high schools, so that students had to request to be contacted by military recruiters instead of their info being automatically sent. This program was replicated nationwide.
Bob played a lead role in RCNV organizing efforts. Here are only a very few: 1999- Congressman Ron Dellums; 2002 Congresswoman Barbara Lee (the sole vote against the US War in Afghanistan); the Santa Cruz Living Wage Coalition; the Million Mom March; the Santa Cruz Peace Coalition…. The list could go on and on.
Bob participated in an Interfaith Peace Builders delegation to Israel and Palestine in 2001 led by Scott Kennedy. He brought a big heart, a hearty laugh, humor and music to RCNV events.
A few quotes from Bob:
1999:  "In 1966, a white civil rights worker was thrown in jail in a rural Alabama town. To his surprise and enlightenment, he was bailed out by local citizens – three Afro American families used their farms as security for his bail! That worker was me. Those committed and generous farm families, and other working families like them, are my heroes, my role models. The farmers and their families were not Civil Rights movement public all-stars. They were not featured and profiled in the daily papers and on TV. Nevertheless, they were the source and sustenance of the Black Civil rights movement. ….
Successful organizing requires shrewd tacticians, articulate spokes-people and focused workers. But I also know from study and experience that successful social struggle requires the participation and support of the people who will live that struggle in their daily learning, job, family and community. "
July, 2002: "I have known and connected with the Resource Center for Nonviolence since its incubation days in Santa Barbara. Having worked with various peace and justice organizations throughout this state and nation for 45 years, my experience affirms what Barbara Lee said is accurate — for 25 years RCNV has been an unusually enduring and potent community-based organization striving to continually develop and empower current and future peacemakers."
Bob generously donated the photographs for five Resource Center for Nonviolence Posters with proceeds benefitting RCNV: Iconic photographs of Martin Luther King, Jr., Cesar Chavez, Catholic Worker Dorothy Day, Pete Seeger During his tenure at RCNV, Bob also reinvigorated his interest in photojournalism by documenting local peace & justice actions and special projects in Vietnam (Friendship Village), Brazil (alcohol fuel), Sri Lanka (International Peaceforce) the 2006 241 mile Guerrero Azteca Tijuana-to-San Francisco march with Fernando Suarez del Solar, Camilo Mejia and Pablo Paredes.
Bob proudly led a life well-lived and truly made a difference. He acted on his beliefs and moved the world to a more just and nonviolent place. 
We will all miss him.  Bob would say:  "Hugs to all! Make mischief!"
Bob Fitch, !presenté!
The Resource Center for Nonviolence in Santa Cruz, California stands in solidarity with the nearly 70,000 farmworkers in Burlington, Washington and San Quintín, Baja California, who have organized a boycott of Driscoll's
berries. The workers, led by their independent unions, have been fighting since 2013 in Washington and 2015 in Baja California for a just contract that guarantees fair wages and decent working conditions, including an end to child labor, sexual harassment and substandard housing.
This struggle of the farmworkers who pick berries for the world's largest berry producer is consistent with the mission of the RCNV to support nonviolent social change in our region and around the world. The headquarters of Driscoll is in Watsonville, here in our county, and nearly all local grocery stores in the area currently sell Driscoll's berries. We urge these businesses to stop selling Driscoll's products and local consumers to stop buying the products until the growers agree to a collective bargaining process with the workers' unions and a contract is agreed to.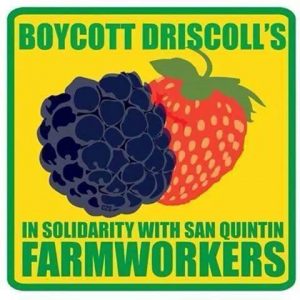 The Santa Cruz NAACP a​nd the Resource Center for Nonviolence invites you to

DR. MARTIN LUTHER KING, JR. WEEKEND
A creative and musical celebration in the spirit of the Courageous Leadership of Dr. Martin Luther King, Jr.
Saturday, January 16 – Monday, January 18, 2016
at the RESOURCE CENTER FOR NONVIOLENCE, 612 Ocean St., Santa Cruz
Saturday January 16th 1­-4 PM YOUTH DAY: Celebrating Young Leaders w/ Project ReGeneration
Live Performances, Food, Activities, Fun Photobooth, Raffle for a FREE SKATEBOARD & more!! Youth, teens, and young adults from all over the county welcome at the RESOURCE CENTER FOR NONVIOLENCE, 612 Ocean St., Santa Cruz, CA for more info call 831.423.1626
Saturday January 16th 7-­9 PM Gospel Night
Be moved by a powerful array of inspiring songs from Santa Cruz Community Gospel Group and local soloists! $10­20 Sliding scale, available only at the Door RESOURCE CENTER FOR NONVIOLENCE, 612 Ocean St., Santa Cruz, CA Info: 831.429.2266
Sunday January 17th 3-­4:30PM Group Reading of L​etter from a Birmingham Jail​​
A read­-through and discussion of the powerful letter King wrote from jail. Drop In! At RESOURCE CENTER FOR NONVIOLENCE, 612 Ocean St., Santa Cruz, CA 831.423.1626
Monday, January 18th All Day A Day ON for Martin Luther King Jr. holiday-A day ON instead of a day off!
The volunteer center is offering service opportunities in the spirit of beloved community! For more info: ​Volunteer Center of Santa Cruz County 831­427­5070 x 117 connect@scvolunteercenter.org www.scvolunteercenter.org
For more information contact Irene O'Connell irene.cj.oconnell@gmail.com (818) 383- 2426


The Resource Center for Nonviolence, a Santa Cruz non­profit organization founded in 1976, promotes the practice of nonviolence in personal and social change to create a more just, peaceful and sustainable world. The NAACP, Santa Cruz County Branch #1071, has celebrated over 62 years of service, and promotes cultural exploration, economic empowerment, educational enrichment and spiritual nourishment.
Stop the Militarization of the Santa Cruz Police!
Give Back the Bearcat; Let City Council know how you feel! Stop the national rush to militarize local police departments. Help resist efforts to form a local militarized police force in Santa Cruz.
Come out on Tuesday, March 10, 2015
Starting at 4:00pm
Santa Cruz City Council, 809 Center Street, Santa Cruz
SCRAM! (Santa Cruz Resistance Against Militarization !)
(831) 687-9118  -  scram911@gmail.com
The National Defense Authorization Act (NDAA) is a federal law specifying the budget and expenditures of the United States Department of Defense (DOD). Each year's act also includes other provisions, some related to civil liberties (ACLU.org).
This year the bill added these egregious amendments in regard to closing Guantánamo Bay,
Brings Indefinite Detention to the U.S. Itself
Bolsters Claims of NDAA and AUMF Indefinite Detention Authority
Requires Report on Even More NDAA and AUMF Indefinite Detention Authority
Tries to Strip Federal Courts of Ability to Decide Challenges to Harmful Conditions
Violates Supreme Court Decision by Stripping Habeas Rights from Detainees Left at Guantánamo
Blocks Most Cleared Detainees from Going Home
For more information on the NDAA and how it affects our rights, check out the Santa Cruz Constitution Protection Zone at SantaCruzCPZ.org and like them on Facebook under Constitutional Protection Zones. Also, if you're interested in the CPZ's weekly meetings contact kim.w@romeroinstitute.org
Please don't miss this special opportunity:
We invite you to join us on Monday, March 2, 7:00p.m. for a presentation by DAVID HARTSOUGH, legendary nonviolent activist. David will speak about his new book "Waging Peace: Global Adventures of a Lifelong Activist." Since meeting Martin Luther King, Jr. as a teenager in the mid-1950s, David has been actively part of many key nonviolent movements over the last half-century: the civil rights movement, the anti-nuclear testing movement, the movement to end the Vietnam War, the U.S. Central America peace movement, the anti-apartheid movement, and the movements to end the U.S. wars in Iraq and Afghanistan. In recent years he has helped found the Nonviolent Peaceforce and a new global venture to end armed conflict, World Beyond War. Please help us spread the word about this amazing evening. Read more about David.
DAVID HARTSOUGH
WAGING
PEACE:
Global Adventures
of a Lifelong Activist
Monday, March 2, 2015, 7:00 PM
AT the Resource Center for Nonviolence, 612 Ocean St., Santa Cruz
David Hartsough knows how to get in the way. He has used his body to block Navy ships headed for Vietnam and trains loaded with munitions on their way to El Salvador and Nicaragua. He has crossed borders to meet "the enemy" in East Berlin, Castro's Cuba, and present-day Iran. He has marched with mothers confronting a violent regime in Guatemala and stood with refugees threatened by death squads in the Philippines.
"Waging Peace" is a testament to the difference one person can make. Hartsough's stories inspire, educate, and encourage readers to find ways to work for a more just and peaceful world.
Inspired by the examples of Mahatma Gandhi and Martin Luther King Jr., Hartsough has spent his life experimenting with the power of active nonviolence. It is the story of one man's effort to live as though we were all brothers and sisters.
A peace activist's eyewitness account of many of the major historical events of the past sixty years, including the Civil Rights and anti-Vietnam War movements in the United States and the little-known but equally significant nonviolent efforts in the Soviet Union, Kosovo, Palestine, Sri Lanka, and the Philippines.
Hartsough's story demonstrates the power and effectiveness of organized nonviolent action. This struggle is waged all over the world by ordinary people committed to ending the spiral of violence and war.
Co-sponsored by the Resource Center for Nonviolence, the Santa Cruz Friends Meeting, WILPF-Santa Cruz. Books will be available for purchase.
For more information: 831.423.1626