Map Unavailable
Date/Time
Date(s) - Jan 13, 2018 - Feb 26, 2018
12:00 pm - 4:00 pm
Location
Resource Center for Nonviolence
Categories
ART EXHIBITS: "Black Lives in Santa Cruz: What Matters" – A Photography and Interview exhibit by Allison Garcia; Melissa West- Printmaking; Stonewalled in Jerusalem- Sara Friedlander
January 13 – February 26, 2018. EXHIBIT HOURS: M – TH Noon – 4p.m.
AT: Resource Center for Nonviolence, 612 Ocean St., Santa Cruz
First Friday Reception: February 2, 2018, 5 – 9 p.m.
—————————-
Black Lives in Santa Cruz: What Matters- A Photography and Interview exhibit by Allison Garcia: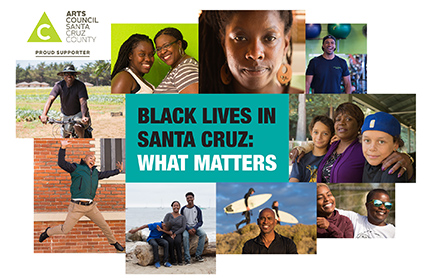 "There's racism in Santa Cruz?" —A white Santa Cruz resident, in 2017 "Santa Cruz is one of the most racist places I know." — A black Santa Cruz resident, in 2017
How can these contradictory opinions exist in our community? With the percentage of black residents in Santa Cruz County at just 1.5%, in a place that is generally considered to be liberal-minded, what is the reality of the every day lives of people of color?
Freelance photographer Allison Garcia invited a diverse group of Santa Cruz community members to share their perspectives, through writing and interviews, on being black in Santa Cruz and the Black Lives Matter movement. The accompanying photos in the exhibit depict the participants in personal and unique contexts of their daily lives and what matters to them.
The exhibit, in the RCNV Community Room, will open in conjunction with the Martin Luther King, Jr. celebration activities at the Resource Center for Nonviolence, including a Youth Day and Gospel Night Celebration on Saturday, January 13, the MLK "March for the Dream" on Pacific Avenue and film screening at RCNV at 2pm-  KING: From Montgomery to Memphis" on Monday, January 15.
"Black Lives in Santa Cruz: What Matters" will also be a featured First Friday exhibit on February 2, and the exhibit will continue through February 26.
For more information, contact Allison Garcia.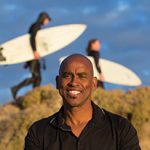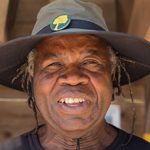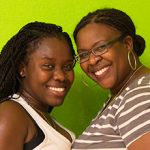 —————————————————————-
Melissa West – Printmaking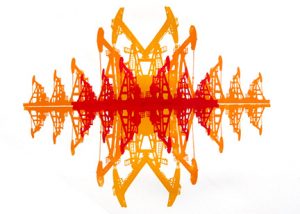 Melissa West lives and works in Santa Cruz, California. She loves painting because of the loose expressiveness of paint. She loves printmaking because of the workman-like process of carving and printing blocks. You will often find her out on the hiking trails, sketchbook in hand.
Work exhibited touches on a variety of themes: the Women's Marches, 2017;  the Arab Spring uprisings;  Honoring farmworkers- Con El Sudor de mi Frente; Oil series is either/or abstract patterns created by oil rigs, or maps tracing various pipelines; Gyre prints are essentially water bottles filled with fish found in the Pacific Gyre, and actual pieces of plastic inked up and included.
Melissa's work explores the fine line between comfort and menace in our most common stories and shared experiences. The place where they meet is sometimes fraught with tension, sometimes filled with magic.
Melissa's prints often depict the characters who populate myths, legends, and fairy tales, but transplant them into a modern or neutral setting. The tension thus created helps viewers see these familiar tales anew, and think about the ways they remain relevant to the modern world.
Similarly, she sometimes use multiple printmaking techniques in a single print, for instance combining etching and relief print, to further emphasize the variety of human story-telling.
We might be able explain events with facts, but we still feel compelled to tell stories. The human experience is always dense and multi-layered. Melissa tries to capture that complexity in her work.
Melissa West- Printmaking, will also be a featured First Friday exhibit on February 2, and the exhibit will continue through February 26.
For more information, contact Melissa West.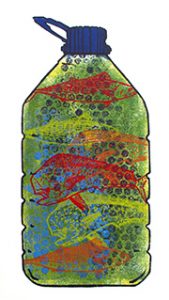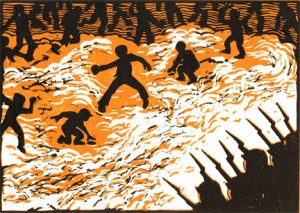 ————————————
Continuing:
"Stonewalled in Jerusalem," mixed media interactive installation by Sara Friedlander
It is very timely to continue to display Stonewalled in Jerusalem,  with so much focus on Jerusalem, Israel planning to take over more Palestinian territory and Trump's daily threats…
Excerpt from Sara's statement about the piece:  Though we were in Israel for 10 days in 2011, it was the three days spent inside the Old City of Jerusalem that inspired this piece. I'd heard Jerusalem repeatedly described as holy, spiritual and sacred, yet for me, raw unresolved conflict was evident on every surface and in every face. As I walked the back alleys, the tunnels and stairways, the seemingly endless stonewalls each held centuries of conflict and religious fervor. When I touched the Wailing Wall for the first time, unexpectedly, wave upon wave of emotion flooded me. The grief, the ghosts, the memories and the deep scars held within the walls of the Old City were truly palpable…..
Months of reflection, research and the editing of endless original and archival photographs led to the concept of creating a wall embedded with the present day cohabitants of the Old City – orthodox Jews, Christians, Muslims, Bedouin women, secular Jews, Arab Israelis, and unidentifiable children (who could be from any of these tribes), all crossing paths with one another, while co-mingling with the ghosts that continue to haunt and separate them…..
In the Jewish Quarter at the Wailing Wall (named because tears actually stream down the surface of the wall via aquifers at the far north-west corner), visitors routinely leave a prayer in the crevices between stones. Usually these are intended to remember their departed or to express personal aspirations for the future. I'm asking the viewers of this wall to offer ideas, reactions, prayers, if you'd like, for traversing this seemingly hopeless situation, ways to open dialogue and help leaders and citizens contemplate and perhaps approach this impasse from outside the box. There is a large and active peace movement in Israel, who question and express opposition to their government's policies with less apprehension than American Jewry, who fear being labeled anti-Semitic if they are critical of Israeli policy.
Desmond Tutu created the Truth and Reconciliation Commission, similar trials have occurred in Rwanda, and Ireland lives in peace today. If it takes a village to raise a child, what will it take to move this situation forward and how can we each participate?         
Sara Friedlander will also be a featured First Friday exhibit on February 2, and the exhibit will continue through February 26.
More information about Sara.