Bridging Warriors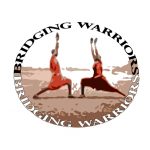 BRIDGING WARRIORS
is a program of the Resource Center for Nonviolence, a non-profit (charitable) organization. BRIDGING WARRIORS mission is to provide FREE, ongoing therapeutic body awareness classes, including yoga, Thai Chi, Intu-Flow, group counseling and FREE medical evaluations to all Santa Cruz County Veteran's (especially those with PTSD) and to their related family members.
Contact Karen Egan for information – email egankar at gmail dot com or 831-425-1944
Services/Classes Offered:
Free Medical Evaluations by Board Certified Physician with alternative health
alternatives call Dr. Paul Hoffman for appt. at 831-251-2222 or Karen Egan at 831-425-1944.
Classes held at the RCNV:
Wednesdays -"Music Fusion" with Steve Bare – bring down your instrument or voice and join the group 10 – Noon
Thursdays -Intu-Flow with Matt Harris – reconnecting wiring from brain to body through awareness and movement.  10 – 11:15 am
*New Tai Chi Class every Tuesday 10 – 11 am beginning August 13th
in addition to other free classes, Bridging Warriors welcomes veterans and anyone coping with TBI, ADD, ADHD, PTSD,chronic pain, Parkinson's balance disorders and depression to an additional class beginning Tuesday, August 13th at the Resource Center for Nonviolence.Class led by Dr. Mark Bernhard, a long-time Santa Cruz chiropractor. For more information call Karina at
925-425-1944
.  Any level welcome.  612 Ocean Street, Santa Cruz

BRIDGING WARRIORS VISION
As citizens concerned with the well-being of fellow citizens, we stand tall in our
commitment to offer, at NO CHARGE (donations welcomed) ongoing classes
and medical evaluations.  These classes are designed to reach out to those
in our community that would otherwise not be able benefit from such programs.
Our vision is one that does not exclude anyone from receiving any of the
services we humbly offer.