Enlisting in the Military
If you're thinking of enlisting in the military, get all the facts first. Read the entire enlistment contract, and learn some important questions to ask the recruiters by following the links at the bottom of this page.
Once you're actually serving in the military, it's very difficult to make changes in your situation, to protest harassment or to leave. In the military you are no longer a civilian living under civilian law. You are subject to military objectives, policy, discipline, law, and courts — very strict and often harsh. Unlike civilian jobs, it's a crime to quit.
Carefully read all of the military contract before you sign it. Click here or on the image below to see the form the recruiters use: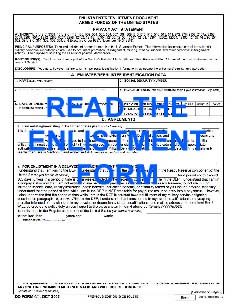 Take the contract home and study it before signing.
Pay special attention to section 9.b. It allows the military to change your assignment, pay and benefits any time they want without notice to you and "regardless of the provisions" of the contract. That is, recruiters cannot, repeat, cannot make promises — even if they are written in the contract!
In section 10.a you promise to serve for eight (8) years. While you may only do 2 or 3 years of active duty, you are contracted, and may be called up any time, for eight (8) years. There is a good chance you will have extended combat-type duty. Reserve call-ups support today's wars.
The following web sites have more information that you should consider.
Questions to Ask the Recruiters:
Literature You Can Download:
Immigrants:
College Money without Joining the Military:
Finding Work Other Than the Military:
[return to the main Military Counseling page]
GI Rights Hotline


877-447-4487

toll-free, nationwide
or

831-316-5367

for the RCNV counseling group
girightshotline.org