The Resource Center for Nonviolence is a consensus-based organization and believes in open discussion, and ultimately, agreement from all parties when decisions are made. To help in this rewarding, if sometimes difficult, way of organizing, an RCNV  Steering Committee helps guide the direction of our work. The Steering Committee has both an oversight and personnel function and fills an important role in the work of the center.  The Steering Committee is currently made up of community members who serve on a voluntary basis and come from very unique and varied backgrounds.  Our Steering Committee helps further the mission and work of the RCNV, neither of which would be possible without our amazing team.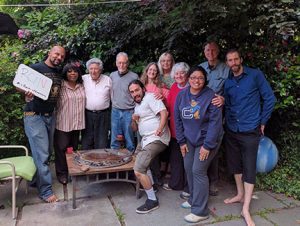 Members as of September, 2017 include:
Steve Schnaar
Darrell Darling
Brenda Griffin
Sandino Gomez
Joe Williams
RCNV thanks all past, present and future Steering Committee members for their service to our organization. If you would like more information about our Steering Committee please call RCNV: 831-423-1626.