The Resource Center for Nonviolence is a peace, justice and antiracism organization promoting the practice of nonviolent social change. Located in Santa Cruz, California, RCNV was founded in 1976. Our primary mission is to support the growth of nonviolent activists. RCNV presents education and training online and at its user-friendly community center at 612 Ocean Street in Santa Cruz, California. The Center hosts activists and analysts from nonviolent struggles around the world. And the Center is a venue for social change groups and non-profit organizations to conduct meetings and public events in its 200-seat Scott Kennedy Hall or its Community Room.
RCNV was founded in 1976 by activists seeking a place and organization to sustain commitment to nonviolence for the long haul. Staff conducted trainings for nonviolent direct action by the Abalone Alliance at the Diablo Canyon Nuclear Power Plant and the Stop Trident/Convert Lockheed campaigns at nuclear weapons manufacturing facilities in Santa Cruz and Santa Clara Counties.
Resource Center staff led 40 interfaith delegations to Israel and Palestine and advocated US foreign policy that substantially supports self-governance and human rights for all in Israel and Palestine. Center staff co-founded Witness for Peace, training North Americans to accompany human rights workers in Nicaragua in the 1980's. In the 1990's staff members co-founded Neighbors of Lower Ocean in Santa Cruz to conduct neighborhood organizing for community safety and responsible landlord practices. The Center supported the La Liga de la Comunidad, soccer leagues for immigrant youth for many years. Until 2017, the Center sponsored the GI Rights Hotline, trained volunteer counseling service for people experience trouble in the military.
In 2007 RCNV supported the founding of the Santa Cruz County Community Coalition to Overcome Racism (SCCCCOR), a grassroots organization addressing structural racism as the the root cause of racial inequity in Santa Cruz County. SCCCCOR continues to provide trainings in racial equity in partnership with RCNV.
In 2011, RCNV interns founded Project ReGeneration, encouraging activism for youth and young adults. In 2017, Drew Glover began offering Kingian Nonviolence Trainings. RCNV staff have participated in national and international networks of nonviolent activism, serving on boards and committees of the Fellowship of Reconciliation, War Resisters League, Interfaith Peace Builders, California Peace and Justice Centers network, plus local committees for peace, justice and human rights. RCNV is dedicated to sustaining a local base for local and global action. We endeavor to introduce nonviolent and antiracist methods into the work of political activists and community organizations.
The Board, staff, and volunteers of the Resource Center for Nonviolence have joined together to promote the conscious practice of nonviolence as a dynamic means of effecting personal and social change and creating a more just, peaceful and sustainable world.
Invitation to Participate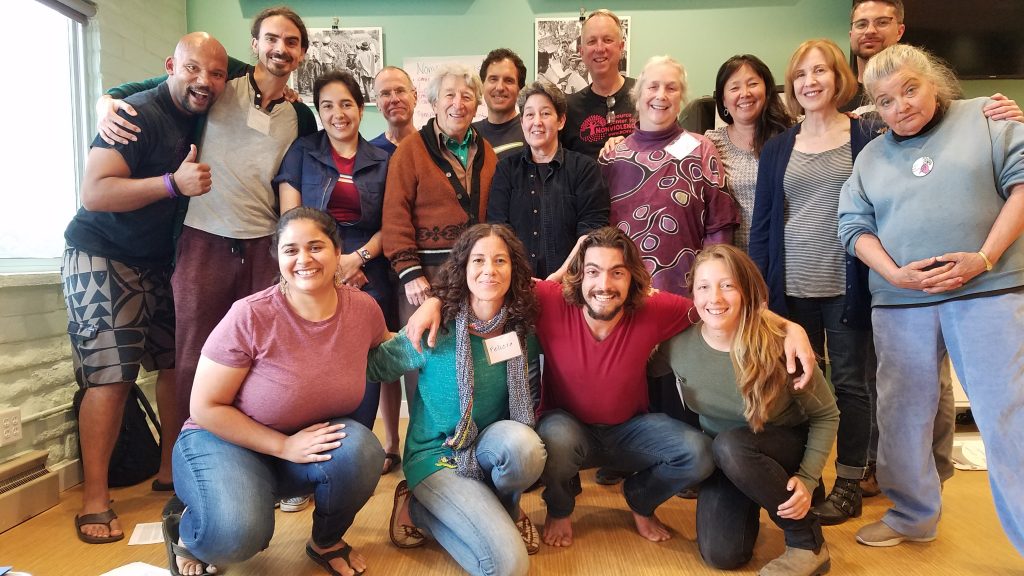 Check out our programs, events, workshops, trainings, conversations, celebrations. We would like to meet you! We welcome everyone exploring activism and nonviolence, asking questions, seeking relationship. We welcome volunteers and interns. Please explore our website and take the time to discover what we feel activism means.
---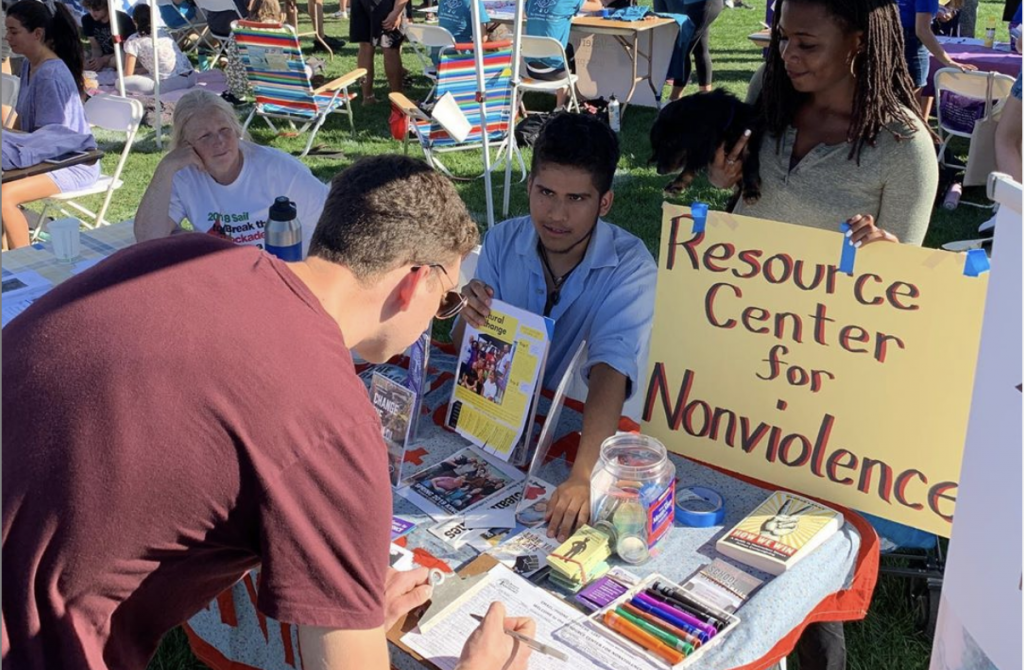 Support the Resource Center for Nonviolence programs. RCNV is a 501-C-3 non-profit organization. All donations are tax-deductible to the full extent of the law.
Current Programs:
Nonviolence Education and Training: Speakers, Conversation groups, Films, Organizer training, Antiracism and Nonviolence Eduction and Trainings, contact Silvia Morales- 831.423.1626.
Project ReGeneration: Engaging the next generation of activists through Intentional support groups, Nonviolence Trainings.
Palestine Justice Coalition: Public education and advocacy for human rights, equality, and sovereignty for Palestinians and Israelis, in co-existence. Contact Peter Klotz-Chamberlin,, 831-423.1626 extension 104.
Santa Cruz County Community Coalition to Overcome Racism : SCCCCOR is a grassroots organization founded in 2007 to address structural racism as the the root cause of racial inequity in Santa Cruz County. In SCCCCOR workshops, we train, equip and support community members and institutions to effectively work toward racial equity. We provide an analysis of racism and inspire people to take a stand for racial equity. Contact Silvia Morales, 831-423-1626
Internships: Opportunities to work with RCNV programs, or develop other nonviolence-related programs and activities. Contact Silvia Morales- 831-423-1626 extension 103.
Art of Nonviolence exhibits–Contact Anita Heckman c/o 831-423-1626.
Bookstore and Library: Nonviolence resources; the Roy C. Kepler Library on Social Change features a special collection of books by and about Gandhi.
Rent RCNV for an Event
Consider renting our facility for your events and celebrations. Scott Kennedy Hall, capacity 200, Community Meeting Room, capacity 60, Conference Room, capacity 10-12; Huddle Space, capacity 2, are available at very reasonable rental rates, for community groups, conferences, performances. A kitchen is also available. The Center is wheelchair-accessible. Contact Tom Monahan for more information about rentals: 831.423.1626, extension 106.
Staff
Silvia Morales
Executive Director: Mission, Antiracism education and training, personnel, partnerships, administration.
Peter Klotz-Chamberlin
Volunteer staff, Secretary of the Board: Nonviolence Education and Training; Fundraising, Property Administration
Peter is a co-founder of the Center, and rejoined the staff in 2012. He develops programs, leads management of the Center's properties, and cultivates relationships with allies.
Tom Monahan
Facility Manager: Rentals, contracts, maintainence, and property oversite
Organization
The Resource Center for Nonviolence is the primary program of the Eschaton Foundation, a tax-exempt 501(c)3 non-profit corporation. Policy and vision of the Resource Center are determined by the Board of Directors. The Board makes final personnel decisions and affirms our budget and program direction. The Center also has an active Personnel Committee, Finance Committee, and seeks to staff its Fundraising Committee.
Funding
The Resource Center for Nonviolence is supported primarily by individual donations, facility rentals, fundraising events, and grants.