We focus on materials related to nonviolence, the Middle East, war and peace, racial and economic justice issues, Gandhi, and Dr. Martin Luther King, Jr.
You can purchase these items online and sales tax is applied at checkout through Paypal.
For bulk orders or for more info, call 831-423-1626 or Email: info (at) rcnv (dot) org
Dorothy Day poster
18×24 full color poster with photo by Bob Fitch. "What we would like to do is change the world… By crying out unceasingly for the rights of the workers, of the poor, of the destitute… We can throw our pebble in the pond and be confident that the ever widening circle will reach around the world." — Dorothy Day, The Catholic Worker, June, 1946.
Price: $16.00
Shipping: Free
Cesar Chavez poster
18×24 full color poster with photo by Bob Fitch.  "I am convinced that truest act of courage, the strongest act of manliness, is to sacrifice ourselves for others in a totally nonviolent struggle for justice… Nonviolence is not inaction.It is not discussion. It is not for the timid or weak… Nonviolence is hard work. It is the willingness to sacrifice. It is the patience to win." — Cesar Chavez.
Price: $16.00
Shipping: Free
Martin Luther King, Jr. Poster on Violence
Classic duotone of Dr. Martin Luther King, Jr., in Eutaw, AL church, 1966:  "The ultimate weakness of violence is that it is a descending spiral begetting the very thing it seeks to destroy. Instead of diminishing evil, it multiplies it. Through violence you may murder the liar, but you cannot murder the lie, nor establish the truth. Through violence you murder the hater, but you do not murder hate. In fact,violence merely increases hate. Returning violence for violence multiplies violence, adding deeper darkness to a night already devoid of stars. Darkness cannot drive out darkness; only light can do that. Hate cannot drive out hate; only love can do that." — Martin Luther King, Jr. Produced in response to terrorist attacks of 9/11/01, this 18×24 poster affirms the necessity and power of nonviolence. Photo by Bob Fitch. Perfect for personal use and educational settings.
Price:  $16.00
Shipping: Free
I Have a Dream Poster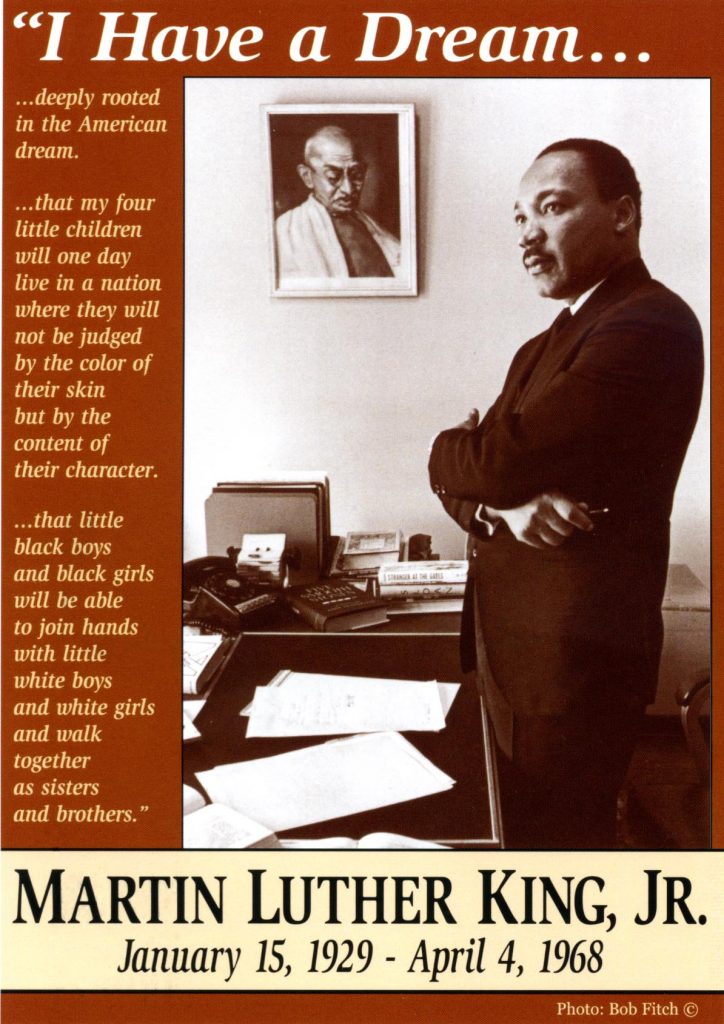 Photo by Bob Fitch.  Excerpt from King's "I Have a Dream" speech:  "…deeply rooted in the American dream, that my four little children will one day live in a nation where they will not be judged by the color of their skin but by the content of their character…. that little black boys and black girls will  be able to join hands with little white boys and white girls and walk together as sisters and brothers." 18×24. Rust, brown and black on white.
Price:  $16.00
Shipping: Free
Pete Seeger Poster
The 18″ x 24″  full color poster has an amazing photo of Pete Seeger smiling and playing his banjo. The quote is from Pete's song Clean Up the Hudson, 1989. Printing donated by Community Printers. Photo by Bob Fitch Photo Archive- copyright Stanford University Libraries Poster text: "Think Globally, Act Locally! Sing and Shout for a world that's free of war and toxics and bigotry."
Price:  $16.00
Shipping: Free
Emergence Poster
Stunning full color depiction of a Monarch butterfly emerging from its chrysalis, with quote from Danilo Dolce. "A midwife helps us give birth to the new life that is within us. Wondering together, asking questions like what is hope, love and life. The seeds of the answer are already within us." Painting by Anita Heckman. 21×19
Price:  $12.00
Shipping: Free