Fear, The Art of Healing & Hope- Conversation with two Arab Activists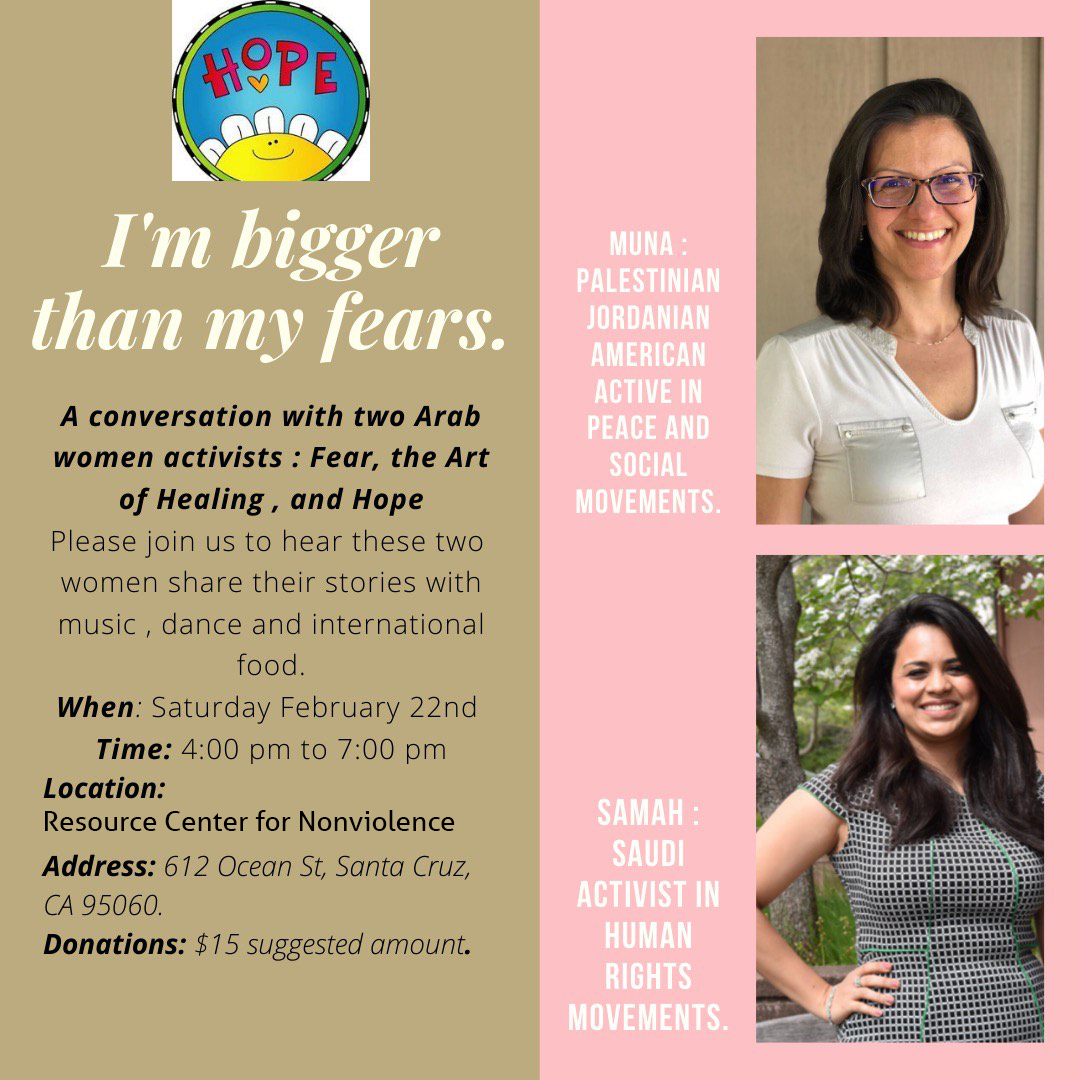 Map Unavailable
Date/Time
Date(s) - Feb 22, 2020
4:00 pm - 7:00 pm
Location
Resource Center for Nonviolence
Categories
Saturday, February 22nd, 2020: "Fear, The Art of Healing and Hope- Conversation with two Arab Activists,"  4-7PM AT the Resource Center for Nonviolence, 612 Ocean St., Santa Cruz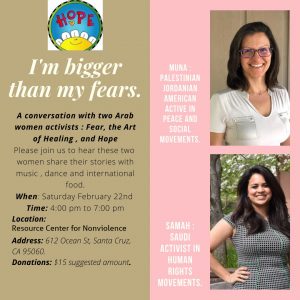 Two Arab activists- Muna and Samah, born and raised in the Islamic milieu of Jordan and Saudi Arabia, are organizing a social and educational three-hour event entitled "Fear, The Art of Healing and Hope- Conversation with two Arab Activists." 
The evening will include music, dance and food, yet the main focus is to offer a transparent conversation between the two on their activism work and personal traumas. They will talk about dealing with their fear challenging the status quo, while healing and building hope. Both activists will share with the public their deep process of struggle and success as Arab Muslim women who were brought up to think and behave more strictly according to their culture.
Muna and Samah hope to spread education and inspiration through their vulnerable sharing on how humans face resistance, criticism, attacks and fear when they decide to think and act "outside the box". Their intention is to send a message of courage, hope, freedom and resilience to the American audience as well as to their people in the Arab world.
Muna AlSheikh, M.Ed:
Muna was born in the United Arab Emirates and raised in Jordan to Palestinian parents from Jerusalem. She wanted to become a therapist, so she traveled to America in 2008 to seek higher education in counseling. Challenging her personal biases and cultural views, she pushed her boundaries and became a seeker in personal growth. She gives workshops and talks speaking of her own experience on deep change and building peace from the inside out. She spoke on KZSC Santa Cruz, KOPN Missouri, Community TV of Santa Cruz and CreaTV San Jose. She volunteered for different causes including work with men in prison. Muna is an activist with the Muslim Solidarity Group of Santa Cruz and a peace activist with Combatants for Peace- a grassroots bipartisan non-violent resistance movement in Israel and Palestine. For more information please visit: www.arabquestforpeace.com, and https://afcfp.org/about-us/usa-regional-groups.
Samah Damanhouri M.A.
Samah came to America in 2014 from Saudi Arabia on a Saudi scholarship. Her mahram (father as a male-guardian) decided to cancel her scholarship in 2016 after a week of her enrollment in a Master's program because she resisted her father's demands on what she studied and how she lived. After losing her financial support, people in the SF Bay Area provided housing, food, a car, boxing classes, and paid off her University tuition. They also hired a lawyer to grant her asylum in 2018. She finished her master's in 2017 in creative writing with an animation project "Madina Papel", VR project "Souvenir", and a song "Black Water". She works now as a producer in Apple. She participated in HBO documentary and was a pervious employee at Facebook. She was highlighted in a BBC documentary, NPR, BBC World News, and radio stations since she participated in The Freedom Drive campaign that won the traveling right to Saudi women. Her work is on finding the inner truth and calling for women's rights in Saudi Arabia.
All of the proceedings of this event will go toward covering food and venue expenses. Thank you.