Healing Resistance, a Book-talk by Kazu Haga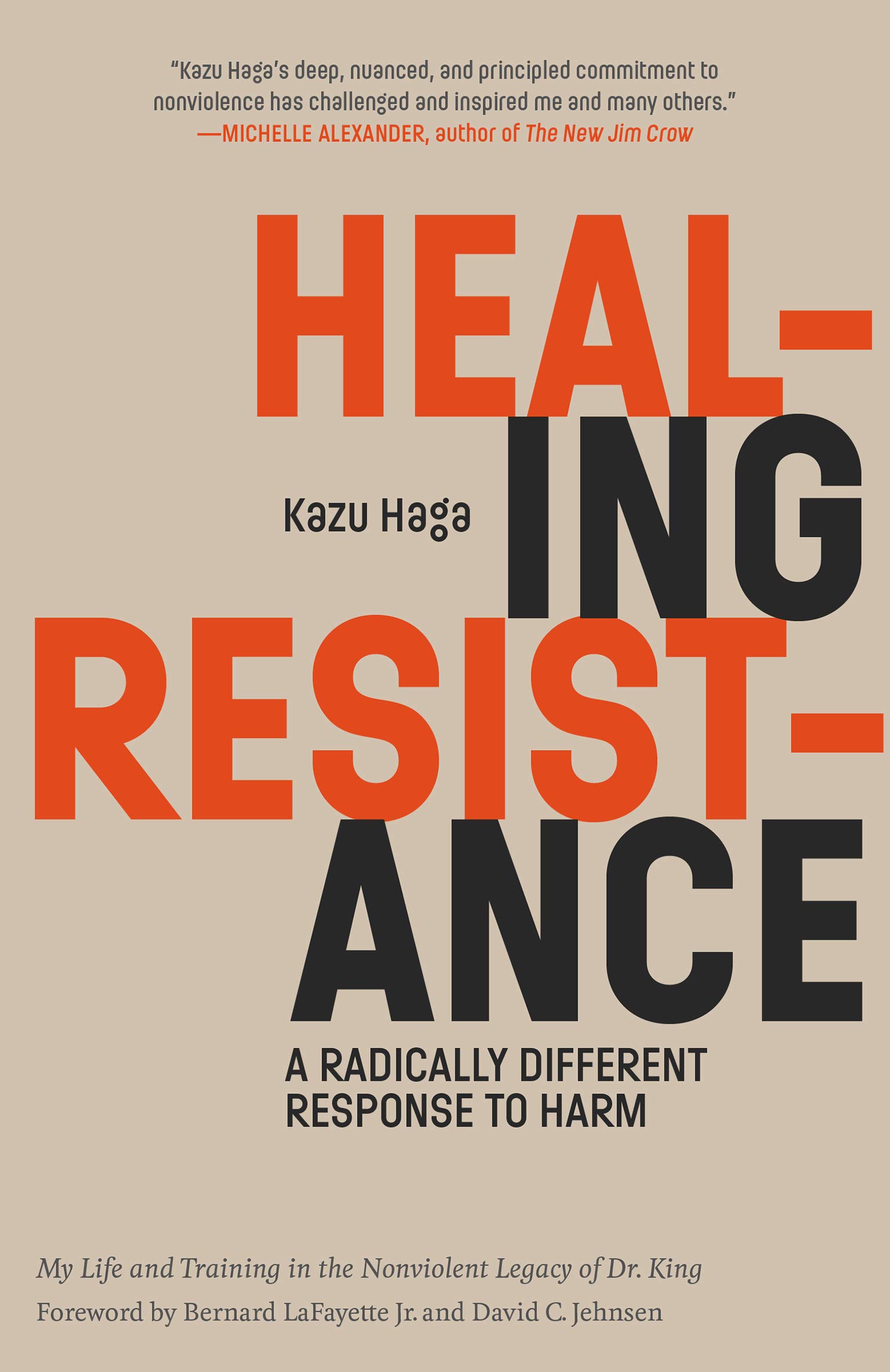 Map Unavailable
Date/Time
Date(s) - Feb 19, 2020
7:00 pm - 9:00 pm
Location
Resource Center for Nonviolence
Categories
Join RCNV and Kazu Haga for a reading and discussion about his new BOOK: Healing Resistance: A Radically Different Response to Harm,
Wednesday, February 19, 7:00PM at the Resource Center for Nonviolence, 612 Ocean St., Santa Cruz.
Books will be available for purchase: $17.95 plus tax.
Kazu Haga is the founder and coordinator of the East Point Peace Academy, a core member of the Ahimsa Collective, and is a trainer in Kingian Nonviolence, a philosophy developed out of the teachings of Dr. Martin Luther King Jr. and the organizing methodologies of the Civil Rights movement.
ABOUT HEALING RESISTANCE
Activists and change agents, restorative justice practitioners, faith leaders, and anybody engaged in social progress and shifting society will find this mindful approach to nonviolent action indispensable.
Nonviolence was once considered the highest form of activism and radical change. And yet its basic truth, its restorative power, has been forgotten. In Healing Resistance, leading trainer Kazu Haga blazingly reclaims the energy and assertiveness of nonviolent practice and shows that a principled approach to nonviolence is the way to transform not only unjust systems but broken relationships. With over 20 years of experience practicing and teaching Kingian Nonviolence, Haga offers us a practical approach to societal conflict first begun by Dr. Martin Luther King Jr. during the Civil Rights Movement, which has been developed into a fully workable, step-by-step training and deeply transformative philosophy (as utilized by the Women's March and Black Lives Matter movements). Kingian Nonviolence takes on the timely issues of endless protest and activist burnout, and presents tried-and-tested strategies for staying resilient, creating equity, and restoring peace.
PRAISE
"Kazu Haga's deep, nuanced, and principled commitment to nonviolence has challenged and inspired me and many others who've had the privilege of encountering his work."
—Michelle Alexander, author of The New Jim Crow: Mass Incarceration in the Age of Colorblindness
"To resist today's violence exploding everywhere, in ways that can actually heal our world, seems a pipe dream—until Kazu Haga makes it real. In his wry, funny, and utterly grounded fashion, he helps me believe we can do it, and begin to become the Beloved Community. We need this book like oxygen. Kazu is my teacher."
— Joanna Macy, author of World as Lover, World as Self
"Kazu Haga reminds us of the power of nonviolence, building on the work of Gandhi and King and informed by his own life and insight in a way that touches us all today. Haga teaches us that true belonging … is a challenging process that takes constant work and training from the internal to the interpersonal to the institutional. But that the work is worth the reward of building Beloved Community. We owe a debt of gratitude to Haga for his work and words and have in this book a manual for loving and for living nonviolence that will guide and inspire generations to come."
—john a. powell, director of the Othering and Belonging Institute at UC Berkeley and author of Racing to Justice: Transforming Our Concept of Self and Other to Build an Inclusive Society
"Kazu Haga has written an accessible, thorough, and deeply personal introduction to nonviolence as a power for personal and social transformation. He reflects upon common myths about nonviolent resistance, offers practical insight from his own experiences, and challenges readers to consider a radical, healing approach to confronting injustice. An inspiring read."
—Erica Chenoweth, Berthold Beitz Professor in Human Rights and International Affairs at Harvard Kennedy School and author of Civil Resistance: What Everyone Needs to Know
"Kazu Haga is a masterful teacher connecting our internal and external experiences: of intending, of doing, and of being—living together with care and justice."
— Larry Yang, core teacher at the East Bay Meditation Center, member of the Spirit Rock Teachers Council, and author of Awakening Together: The Spiritual Practice of Inclusivity and Community
"In Healing Resistance, Kazu Haga takes on the why of violence, breaks it down, and then builds us up for the work we need to do now."
—Mushim Patricia Ikeda, Buddhist teacher, racial justice community activist, and author of viral article "I Vow Not to Burn Out"
"At a time when the literature is often divided between advocates of nonviolence out of principle and advocates of nonviolent action for strategic and utilitarian reasons, Kazu Haga puts forth a compelling argument as to why both are important to challenge the forces of oppression and build a better world."
—Stephen Zunes, professor of politics and international studies at the University of San Francisco and author of Nonviolent Social Movements