Selma Alabama Cultural Exchange – Food Justice Spring Break – March 25 – March 31, 2019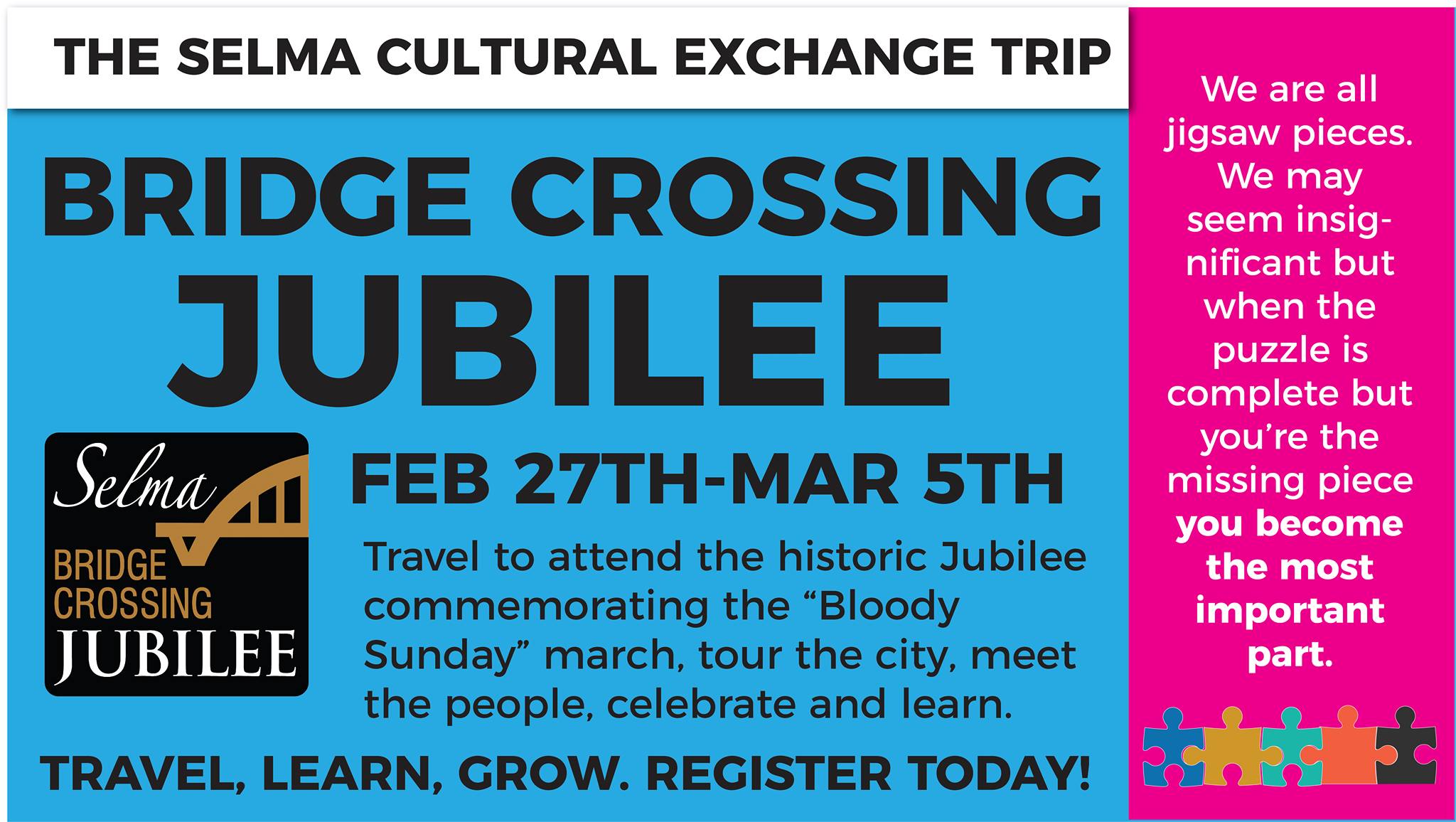 Map Unavailable
Date/Time
Date(s) - Mar 25, 2019 - Mar 31, 2019
All Day
Categories
Selma Alabama Cultural Exchange – 2019
MARCH 25TH 2019 – MARCH 31ST 2019
REGISTRATION CLOSES February 15 2019
Details below.
---
MARCH 25TH 2019 – MARCH 31ST 2019
REGISTRATION CLOSES JANUARY 1ST 2019
Selma, Alabama Cultural Exchange: Food Justice Spring Break
The Resource Center for Nonviolence Cultural Exchange SELMA (CE SELMA) program provides opportunities for people of all ages to integrate intercultural understanding and develop culturally inclusive perspectives. Resources included in the program are geared toward developing knowledge about culture, cultural diversity and identity within the context of the United States.
Our program is designed to expose individuals to people from different cultural, religious, geographic and socio-economic backgrounds and in so doing provide the opportunity for participants to develop a greater understanding of diversity – both in the United States and worldwide. We encourage everyone to interact with and learn from people who are different from themselves and to participate in new and unique experiences beyond their own communities. CE SELMA assists participants to develop positive relationships with others, understand a broader range of perspectives, and develop the knowledge and skills needed for participation in our multicultural society.
Cultural Exchange SELMA is managed by the Resource Center for Nonviolence.
SPACE IS LIMITED! REGISTER TODAY TO RESERVE YOUR SPOT!
For questions email: Drew@rcnv.org or call (831) 423-1626 x103
THE TRIP INCLUDES:
• 7 days and 6 nights in Selma, Alabama
• Lodging, breakfast, lunch and dinner everyday at the Selma Center for Nonviolence, Truth and Reconciliation
• 4-hour Conflict Resolution Training
• Guided tours of the Ancient Africa, Enslavement and Civil War Museum as well as the National Voting Rights Museum
COMMUNITY SERVICE PROJECTS IN SELMA, AL INCLUDE:
• Collecting oral histories of foot soldiers, transcribing of oral histories and/or archiving at the National Voting Rights Museum.
• Cleaning the Civil Rights Memorial Park.
• Helping with the farm-to-table coop
• Voter registration, education and mobilization.
• Canvassing communities to hear current concerns for strategic planning to include the community's voice.
• Teaching nonviolence and/or conflict resolution to youth using the arts.
• Helping with the Community Garden in Ward 4.
• Co-hosting a community radio program regarding current social justice issues.
• Neighborhood cleanups and city beautification projects 
• and much more!
TOTAL COST ONLY $1,300/person
Find a way to say YES!
JOIN US!
Drew Glover
Drew@rcnv.org
(831) 423-1626 x103
---
---