The Resource Center for Nonviolence (RCNV) presents a series of antiracism book circles as an act of radical education and collaboration.
About this event
Schedule and Logistics
Book Circle Length: 9 weeks
Meeting Dates and Time: Tuesdays | 9/27/22-11/22/22 | 6–8PM PST
Weekly meeting length: 2 hours
This book circle will meet: Hybrid (On Zoom + In Person at RCNV)
Who Can Join this Book Circle: This group is open to any racial identity
This circle can accommodate up to 10 participants with a wait list.
This group is open to all people. The focus of the book is the African American experience in the United States since 1619 and how the institution of slavery shaped & still defines this country.
The group will be guided by The East Bay Meditation Center Agreements for Multicultural Interactions https://eastbaymeditation.org/2022/03/agreements-for-multicultural-interactions/.
We will hold space together within these considerations:
"We are aware and sensitive to racial trauma. We are committed to decentering whiteness in our dialogue. We believe in brave space and speaking truth and each person's capacity to grow."
(from Movement & Space: Creating Dialogue on Systemic Racism from the Modern Civil Rights Movement to the Present https://www.splcenter.org/movement-and-space)
About the Antiracism Book Circles
Our hope is to provide a unique opportunity to process the impact of the renewed call for gender and racial equity in our society. Our goal is to create a space in which participants may collectively and individually gain understanding that will result in healing, inclusion, and empowerment. More importantly, they provide a way to maintain energetic human connections through virtual meeting spaces. Past circles have included participants from around the world to create transformative and educational learning containers.
Participants are invited to come with an openness to learning about the impact of racism. Engaging in antiracism work is both challenging and incredibly rewarding. It's messy and strong feelings can arise. This is a natural part of the process. By practicing in community we have the opportunity to learn how to navigate and support each other as we move through transforming racism from the inside out. Our book circle facilitators volunteer to hold space for the learning to take place.
Collectively, participants and the co-facilitators co-create a courageous space with the intention of being responsible to and for each other in the holding of the container. This work of emergence is uplifting and liberating. We are planting seeds of love and liberation with care. In addition, if needed, participants will be provided with channels of support with links to both co-facilitators and the RCNV staff.
This program is offered to our community on donation basis, funds go to support the work of RCNV, to cover the costs of administration. Any amount is highly appreciated, traditionally we suggest $25 per person, or more for those wishing to grant space to others, but any donation amount is accepted and no one will be turned away for lack of funds.
After you register and as our circle start date nears, your co-facilitators will reach out with more details. We look forward to having this journey together.
Note on Affinity & Mixed Race Groups
The Resource Center for Nonviolence (RCNV) mission is to highlight social injustice and to offer education on alternative/nonviolent action into healing racism and systemic violence. RCNV, through the book circles program, offers a safe container to go deep into the self and community transformative work.
At the RCNV, we acknowledge the need to dismantle white supremacy through creating space for affinity groups in our book circles to go deeper. People of color need the space to show up freely in our community to express their emotions away from the conditioned white spaces. At the same time, white people are in need to do their work of dismantling white supremacy in their own skin by being vulnerable with those who relate to their experience. We are aware that people from all cultures have similar human emotions but humans are also different in how they experience life, given to them through the racial, religious, ethnic, and cultural lens.
Due to the sensitive racial nature of the books offered, the RCNV's racial equity policy offers separate affinity groups facilitated by facilitators of all races to respect the process of participants and to provide more safety and depth in the circle for those individuals identifying as Black, Indigenous, or People of Color (BIPoC).
Mixed race individuals are welcome to join affinity groups matching their self-identification. Our co-facilitators will do their best to support every participant in their process. Our book circles provide spaces to practice mutual respect, collaboration, and the creation of an inclusive community.
About Group Facilitators
Kasi (KC) (all pronouns): Is a white-bodied, gender queer, retired blue collar elder. Facilitating & participating in RCNV antiracism book circles has deepened my awareness of systemic racism and my own embodied expression of whiteness. It's said that knowledge is power. May these circles contribute to empowered communities.
Jinx / Lady Jazz at KSQD.org: Is a Black presenting binary neutral female. Having lived in Santa Cruz since 1969, I have experienced various and varied community evolutions from many vantage points.
Participating in several RCNV antiracism book circles has broadened my appreciation, scope, and understanding of our history and culture.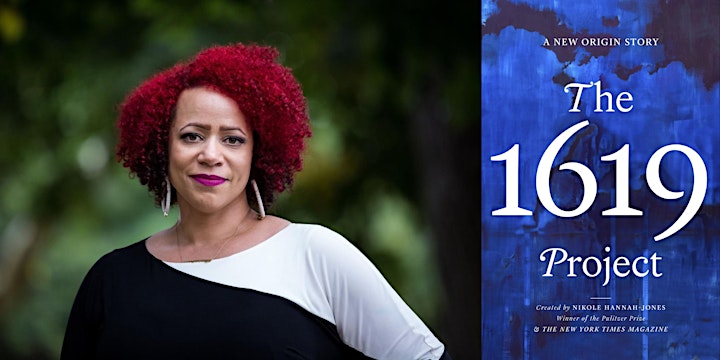 About the Book
"History is not the past. It is the present. We carry our history with us. We are our history." -James Baldwin
The New York Times Magazine's award-winning "1619 Project" issue reframed our understanding of American history by placing slavery and its continuing legacy at the center of our national narrative. This new book substantially expands on that work, weaving together eighteen essays that explore the legacy of slavery in present-day America with thirty-six poems and works of fiction that illuminate key moments of oppression, struggle, and resistance. The essays show how the inheritance of 1619 reaches into every part of contemporary American society, from politics, music, diet, traffic, and citizenship to capitalism, religion, and our democracy itself.
The 1619 Project speaks directly to our current moment, contextualizing the systems of race and caste that still define so much of American life today. It reveals the hidden truths around our nation's founding and construction—and the way that the legacy of slavery did not end with emancipation, but continues to shape contemporary American life.
*Source: the The 1619 Project book jacket
About the Author
Nikole Hannah-Jones is an award-winning investigative reporter who covers civil rights and racial injustice for The New York Times Magazine. Nikole got hooked on journalism when she joined her high school newspaper and began writing about students like her, who were bused across town as part of a voluntary school desegregation program.
Her heroes are the race beat reporters, such as Ida B. Wells, Ethel Payne, Simeon Booker and Claude Sitton, whose fearless coverage helped move this nation closer to its promise.
Prior to joining The New York Times, Nikole worked as an investigative reporter at ProPublica in New York City, where she spent three years chronicling the way official policy created and maintains segregation in housing and schools. Before that, she reported for the largest daily newspaper in the Pacific Northwest, The Oregonian in Portland, Ore., where she covered numerous beats, including demographics, the census and county government.
Nikole started her journalism career covering the majority-black Durham Public Schools for The News & Observer in Raleigh, N.C. During her three years there, she wrote extensively on issues of race, class, school resegregation and equity.
Nikole is a native Iowan, a child produced by the hopes of both the Great Migration and those who migrated from foreign shores. She has also lived in Indiana, Georgia, North Carolina and Oregon. Now she is Bed-Stuy fly in Brooklyn.