The Resource Center for Nonviolence (RCNV) presents a series of antiracism book circles as an act of radical education and collaboration.
About this event
Schedule and Logistics
Book Circle Length: 6 weeks
Meeting Dates and Time: Sundays | 9/25/22-10/30/22 | 2–4PM PST
Weekly meeting length: 2 hours
This book circle will meet: On Zoom
Who Can Join this Book Circle: Black, Indigenous, or People of Color (BIPoC) Identifying People to join us.
In this 6 week book circle we will explore "how to transform racism from the inside out", through using somatic practices of mindfulness (returning to the breath and the body.)
No meditation experience needed.
About the Antiracism Book Circles
Our hope is to provide a unique opportunity to process the impact of the renewed call for gender and racial equity in our society. Our goal is to create a space in which participants may collectively and individually gain understanding that will result in healing, inclusion, and empowerment. More importantly, they provide a way to maintain energetic human connections through virtual meeting spaces. Past circles have included participants from around the world to create transformative and educational learning containers.
Participants are invited to come with an openness to learning about the impact of racism. Engaging in antiracism work is both challenging and incredibly rewarding. It's messy and strong feelings can arise. This is a natural part of the process. By practicing in community we have the opportunity to learn how to navigate and support each other as we move through transforming racism from the inside out. Our book circle facilitators volunteer to hold space for the learning to take place.
Collectively, participants and the co-facilitators co-create a courageous space with the intention of being responsible to and for each other in the holding of the container. This work of emergence is uplifting and liberating. We are planting seeds of love and liberation with care. In addition, if needed, participants will be provided with channels of support with links to both co-facilitators and the RCNV staff.
This program is offered to our community on donation basis, funds go to support the work of RCNV, to cover the costs of administration. Any amount is highly appreciated, traditionally we suggest $25 per person, or more for those wishing to grant space to others, but any donation amount is accepted and no one will be turned away for lack of funds.
After you register and as our circle start date nears, your co-facilitators will reach out with more details. We look forward to having this journey together.
Note on Affinity & Mixed Race Groups
The Resource Center for Nonviolence (RCNV) mission is to highlight social injustice and to offer education on alternative/nonviolent action into healing racism and systemic violence. RCNV, through the book circles program, offers a safe container to go deep into the self and community transformative work.
At the RCNV, we acknowledge the need to dismantle white supremacy through creating space for affinity groups in our book circles to go deeper. People of color need the space to show up freely in our community to express their emotions away from the conditioned white spaces. At the same time, white people are in need to do their work of dismantling white supremacy in their own skin by being vulnerable with those who relate to their experience. We are aware that people from all cultures have similar human emotions but humans are also different in how they experience life, given to them through the racial, religious, ethnic, and cultural lens.
Due to the sensitive racial nature of the books offered, the RCNV's racial equity policy offers separate affinity groups facilitated by facilitators of all races to respect the process of participants and to provide more safety and depth in the circle for those individuals identifying as Black, Indigenous, or People of Color (BIPoC).
Mixed race individuals are welcome to join affinity groups matching their self-identification. Our co-facilitators will do their best to support every participant in their process. Our book circles provide spaces to practice mutual respect, collaboration, and the creation of an inclusive community.
About Group Facilitators
Nikki (she/they/of earth): Life artist. Practicing humxn being. Looping, laughing, leaning towards beyond liberation.
In honor of learning to move at the organic pace, purpose and process of the body one actually lives in, Nikki has imagined and practices the work of the curves; a sense + space making system for diverse bodies to innerscape spaciousness and practice being humxn, in affinity and collectivity.
Curtis (he/him/kin): Yoga Instructor, Meditation facilitator, space holder, Musician and Registered Nurse. Curtis is involved in anti-racist work as well as engaged in buddhism in the Thich Nhat Hahn's Plum Village tradition. He facilitates BIPoC, African-American as well as ALL body "sits" and has co-facilitated BIPoC Book Circles for RCNV for 2 years.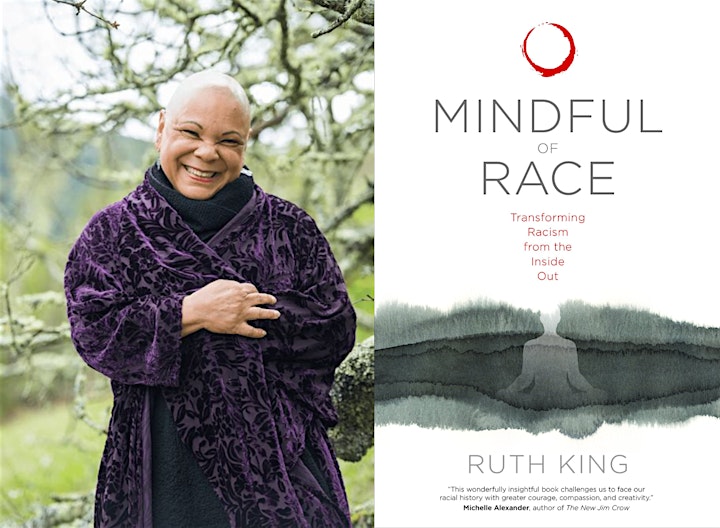 About the Book
"In a moment of racial tension, have you ever tried to simply "shrug off" your outrage? Or put on a pleasant face so that others wouldn't feel uncomfortable? Or dared to take a stand—only to find that it inflamed the situation? With Mindful of Race, Ruth King offers another option:
To tend first to our suffering, listen to what it is trying to teach us, and direct its energies most effectively for change.
Drawing on her expertise as both a meditation teacher and diversity consultant, King supports readers of all backgrounds with an abundance of insights and guided practices to help us identify our misperceptions, honor and engage with our most challenging emotions, temper them with compassionate forgiveness, and find the optimal course of wise action."*
We welcome all BIPOC (Black, Indigneous, and People of Color) to join us.
In this 6 week book circle we will explore "how to transform racism from the inside out", through using somatic practices of mindfulness (returning to the breath and the body.)
No meditation experience needed.
*Source: https://www.goodreads.com/book/show/36472255-mindful-of-race
About the Author
Ruth King is an international teacher in the Insight Meditation tradition, and an emotional wisdom author and life coach. She is on the Teacher's Council at Insight Meditation Community of Washington and Spirit Rock Meditation Center, and is the founder of Mindful Members Insight Meditation Community in Charlotte, NC.
In former years, King managed training and organizational development divisions at Levi Strauss and Intel corporations where she designed diversity awareness programs and consulted to leaders on cultural change initiatives, including the behavioral implications of mergers and acquisitions. A world traveler, King's work has been influenced by many cultures, and is often described as "ceremony." Her intuitive methods, knowledge, and skills weave the fields of Western psychology, Buddhist philosophy, leadership development, mindfulness meditation, and fun!
Currently recognized as a trainer of trainers and consultant to consultants, King teaches the Mindful of Race Training and Facilitation programs, which blends mindfulness principles and meditation with an exploration of our racial conditioning, its impact, and our potential. Both
King has a Masters Degree in Clinical Psychology from John F. Kennedy University, Orinda, CA, and is the author of several publications including Healing Rage: Women Making Inner Peace Possible and Mindful of Race: Transforming Racism From The Inside Out. Review other influences here. dynamic and compassionate, King speaks to the heart of her audiences with authenticity and joy.