Date/Time
Date(s) - Oct 4, 2022 - Oct 25, 2022
7:00 pm - 8:30 pm
Virtual Event Link
REGISTER HERE
Categories
The Resource Center for Nonviolence (RCNV) presents a series of antiracism book circles as an act of radical education and collaboration.
About this event
all about love: New Visions by bell hooks
Schedule and Logistics
Book Circle Length: 4 weeks
Meeting Dates and Time: Tuesdays | 10/04/22-10/25/22 | 7–8:30PM PST
Weekly meeting length: 1.5 hours
This book circle will meet: On Zoom
Who Can Join this Book Circle: Black, Indigenous, or People of Color (BIPoC) Identifying as Male.
Open up your ear that you may hear; and your heart that you may heed!
Course Description
This is a month-long conversation for MEN—primarily men of color— on the subject of LOVE. After all the trauma and madness suffered due to the COVID-19 appeared to subside, the pundits began to call for a return to NORMAL—Normalcy? Do we really want to return to a world, a society, filled with "the absence of love?" Do we really believe that after the pandemic humanity's only choice is a world of relationships wherein "the enchantment of power and/or terror of fear overshadow the will to love?"
The conversation's theme is a take-off from the book title: "After All—Love!" Let's talk about what such a love is and what it might look like in the decade ahead. What is the role of men of color in advancing the practice of love?
Course Schedule

About the Antiracism Book Circles
Our hope is to provide a unique opportunity to process the impact of the renewed call for gender and racial equity in our society. Our goal is to create a space in which participants may collectively and individually gain understanding that will result in healing, inclusion, and empowerment. More importantly, they provide a way to maintain energetic human connections through virtual meeting spaces. Past circles have included participants from around the world to create transformative and educational learning containers.
Participants are invited to come with an openness to learning about the impact of racism. Engaging in antiracism work is both challenging and incredibly rewarding. It's messy and strong feelings can arise. This is a natural part of the process. By practicing in community we have the opportunity to learn how to navigate and support each other as we move through transforming racism from the inside out. Our book circle facilitators volunteer to hold space for the learning to take place.
Collectively, participants and the co-facilitators co-create a courageous space with the intention of being responsible to and for each other in the holding of the container. This work of emergence is uplifting and liberating. We are planting seeds of love and liberation with care. In addition, if needed, participants will be provided with channels of support with links to both co-facilitators and the RCNV staff.
This program is offered to our community on donation basis, funds go to support the work of RCNV, to cover the costs of administration. Any amount is highly appreciated, traditionally we suggest $25 per person, or more for those wishing to grant space to others, but any donation amount is accepted and no one will be turned away for lack of funds.
After you register and as our circle start date nears, your co-facilitators will reach out with more details. We look forward to having this journey together.
Note on Affinity & Mixed Race Groups
The Resource Center for Nonviolence (RCNV) mission is to highlight social injustice and to offer education on alternative/nonviolent action into healing racism and systemic violence. RCNV, through the book circles program, offers a safe container to go deep into the self and community transformative work.
At the RCNV, we acknowledge the need to dismantle white supremacy through creating space for affinity groups in our book circles to go deeper. People of color need the space to show up freely in our community to express their emotions away from the conditioned white spaces. At the same time, white people are in need to do their work of dismantling white supremacy in their own skin by being vulnerable with those who relate to their experience. We are aware that people from all cultures have similar human emotions but humans are also different in how they experience life, given to them through the racial, religious, ethnic, and cultural lens.
Due to the sensitive racial nature of the books offered, the RCNV's racial equity policy offers separate affinity groups facilitated by facilitators of all races to respect the process of participants and to provide more safety and depth in the circle for those individuals identifying as Black, Indigenous, or People of Color (BIPoC).
Mixed race individuals are welcome to join affinity groups matching their self-identification. Our co-facilitators will do their best to support every participant in their process. Our book circles provide spaces to practice mutual respect, collaboration, and the creation of an inclusive community.
About the Group Facilitator
Dr. James McCray (he/him): Semi-retired after 38 years of service in local churches and to their surrounding communities; and now joyously living as a son, husband, father, and grandfather in his beloved San Francisco. Joyful first for the blessing of being a "Cancer Survivor." Joyful also, because of the marriage to Gail Jackson McCray, a practicing Attorney in San Francisco.
In the last twelve (12) years a surprisingly new venture has come— the development of affordable housing, through the building of a locally based community development corporation, as Executive Director of Tabernacle Community Development Corporation (TCDC).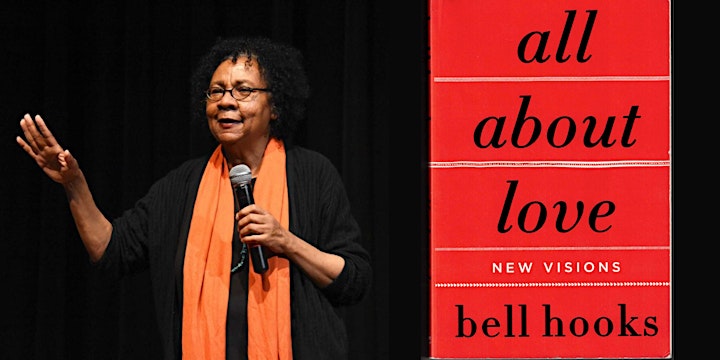 About the Book
A New York Times bestseller and enduring classic, All About Love is the acclaimed first volume in feminist icon bell hooks' "Love Song to the Nation" trilogy. All About Love reveals what causes a polarized society, and how to heal the divisions that cause suffering. Here is the truth about love, and inspiration to help us instill caring, compassion, and strength in our homes, schools, and workplaces.
"The word 'love' is most often defined as a noun, yet we would all love better if we used it as a verb," writes bell hooks as she comes out fighting and on fire in All About Love. Here, at her most provocative and intensely personal, renowned scholar, cultural critic and feminist bell hooks offers a proactive new ethic for a society bereft with lovelessness–not the lack of romance, but the lack of care, compassion, and unity. People are divided, she declares, by society's failure to provide a model for learning to love.
As bell hooks uses her incisive mind to explore the question "What is love?" her answers strike at both the mind and heart. Razing the cultural paradigm that the ideal love is infused with sex and desire, she provides a new path to love that is sacred, redemptive, and healing for individuals and for a nation. The Utne Reader declared bell hooks one of the "100 Visionaries Who Can Change Your Life." All About Love is a powerful, timely affirmation of just how profoundly her revelations can change hearts and minds for the better.
*Source: Amazon
About the Author
Gloria Jean Watkins, or her famous pen name, bell hooks, is one such person. As an American feminist, author, social activist, and African American woman, Hooks has been a party to inequality at its finest. Her pen name comes from her great-grandmother on her mother's side, Bell Blair Hooks, a woman who was known for always speaking her mind. Drawing inspiration from this strong woman, Hooks works to draw attention to the issues and write from the heart. Hooks draws her inspiration from her life, her experiences, and the hope for a better future.
Hooks's writing focuses on the intersectionality of race, gender, and capitalism. Her focus is to describe how these factors converge to produce and perpetuate systems of oppression and class domination in our world. Her body of work consists of over 30 books and numerous scholarly articles, appearances in documentaries, and participation in public lectures. Hooks was born in Hopkinsville, KY to a working class family and through hard work and determination she was able to found the Bell Hooks Institute in Berea, Kentucky as part of Berea College where she taught before her passing in 2021.