Rise Up and Rise Again SING ALONG Concert with Annie Patterson Benefits RCNV!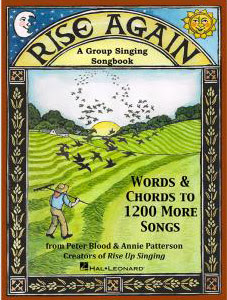 Map Unavailable
Date/Time
Date(s) - Oct 19, 2018
7:00 pm - 9:00 pm
Location
Resource Center for Nonviolence
Categories
Come to a sing along concert led by Annie Patterson, co-creator of the popular Rise Up Singing and Rise Again songbooks. Benefits RCNV!
Friday, October 19, 7pm at RCNV, 612 Ocean St., Santa Cruz
All ages welcome. Suggested donation: Adults: $20, $10 students/low income, Kids free. Pay what you are can to support RCNV. No one turned away for lack of funds.  Tickets and songbooks available at the DOOR or buy tickets here.
This rousing sing along concert will be a benefit for the Resource Center for Nonviolence. Annie will be will be joined by Aileen Vance (director of the Santa Cruz Peace Chorale), Bob Reid & Judi Jaeger – along with bassist/vocalist Mary Witt. This will be a great opportunity to support this important organization working hard for peace & social justice. Sing out and build hope, community and resilience in these challenging times!
Annie has often toured the West Coast with her husband Peter Blood, leading sing-along concerts out of their songbooks and accompanying herself on guitar and old timey banjo. She is also a vocalist with the swing band Girls From Mars. She just released a new jazz/blues EP called "Make Your Move".
Annie will be joined by her friend and musical collaborator Mary Witt for a tour of the Bay area this coming October 18th – 23rd. Mary is known for her sultry vocals and groove bass playing with the New England swing and soul band, The O-Tones.
Annie and Mary draw on their love of folk, Americana, jazz and Motown when they perform as a duet and have collaborated on other musical projects together, as well. Annie sings 2 songs with Mary on her recent "Duets" album and Mary is the producer of Annie's first solo jazz EP, Make Your Move, due out Sept 1st. Mary's grooving bass, vocals and fantastic harmonies are a wonderful addition to any Rise Up Singing singalong concert that Annie leads.
Co-sponsored by RCNV, Santa Cruz Peace Chorale, MusicalMe/Music Together, Community Music School of SC, and Gourd Music.
More info: Call 831-423-1626.