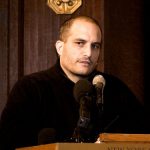 Wednesday, September 8 at 8:00 p.m. at
the Quaker Meeting House, 228 Rooney St., Santa Cruz
The Free Gaza Movement is having a series of nationwide fundraisers to raise money for the Audacity of Hope, the US boat being outfitted for the Free Gaza Flotilla planned for the Fall. The flotilla will bring humanitarian supplies to Gaza and raise public awareness about the plight of Gaza's 1.5 million residents. According to many studies, and most recently an August UN report, Gaza residents face widespread under-development, poverty and malnutrition.
The speaker, Adam Shapiro, is a founder of the International Solidarity Movement who lived in Palestine for several years. Adam is currently working on a six part documentary on Palestinian refugees who are now living in 18 countries. He has also done documentaries on post-invasion Baghdad (2003) and Darfur (2006). His talk will be followed by a reception.
The Free Gaza Movement is endorsed by dozens of organizations and individuals including Prof. Angela Davis, WILPF USA & International, Cindy & Craig Corrie, Hedy Epstein, Kahlil Bendip, Rashid Khalidi, Kathy Kelly, Center for Consititutional Rights President Michael Ratner, Voices for Creative Nonviolence, MADRE, Alice Walker, Ret. Col. Ann Wright, author and national president of Veterans for Peace Mike Ferner, Anna Baltzer and Starhawk.