Rosalie Riegle: "Doing Time for Peace"
Thursday May 23rd
7pm at the RCNV
612 Ocean St.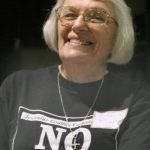 Rosalie Riegle will speak about her new books: "Doing Time for Peace: Resistance, Family, and Community," and "Crossing the Line: Nonviolent Resisters Speak out for Peace" Inspiring and eye-opening actions presented with undeniable honesty and humility that should be required reading for those interested in civil disobedience and its consequences. Books available for purchase; donation requested.
From the publisher website:
More than sixty-five peacemakers have contributed oral narratives to this compelling history of those who say no to war making in the strongest way possible: by engaging in civil disobedience and paying the consequences in jail or prison. Crossing the Line gives voice to often neglected social history and provides provocative stories of actions, trials, and imprisonment.
This fascinating volume serves as an excellent supplement to conventional histories. Almost all the storytellers here are people of faith or are inspired by those who live by faith. Many work at conventional careers; some do full-time peacemaking by living in Catholic Worker houses or in the Jonah House community; several are priests and nuns who minister worldwide. Also featured are three resisters prominent in War Resisters League history.
From World War II conscientious objectors to contemporary activists, these narrators have refused to be helpless in the face of a violent world, and have said with their bodies that they do not accept the status quo of permanent war and war preparation. In short, the voices illustrate hope at a time when it seems in short supply.
Link for More Info about the book: