ISRAEL APARTHEID WEEK
5 Broken Cameras
Showing MARCH 6: first-ever Palestinian film nominated for Best Documentary at 2013 Academy Awards.
Film Series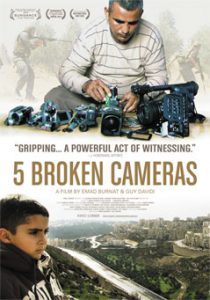 March 3 – 6, 7p.m.
at the Resource Center for Nonviolence
612 Ocean St., Santa Cruz
Sponsored by the Palestine-Israel Action Committee & RCNV
Click to see link: 2.21.13 Democracy Now article on Israel, Palestine & the Oscars- focused on 5
Broken Cameras
click for pdf flier for Israel Apartheid Week
Sunday, March  3, 7p.m.
Three Film Shorts by Jewish Voice for Peace


Israel & Palestine: A Very Short Introduction;
Omar Barghouti with Amy Goodman, February 2013
Peace, Propaganda & the Promised Land
Monday, March 4, 7p.m.
Two short films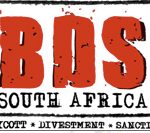 Pressure Points: "Have you heard from Johannesburg"
BDS South Africa- Boycott, Divestment,
Sanctions- "The Bottom Line"
Tuesday, March 5, 7p.m.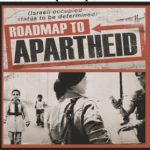 Roadmap to Apartheid
Award-winning documentary takes a detailed look at the apartheid analogy commonly used to describe the Israeli-palestinian conflict. Narrated by Alice Walker.
Wednesday, March 6, 7p.m.
5 Broken Cameras
Amy Goodman of "Democracy Now" writes on 2.21.13 about how this film will make history at the Academy Awards ceremony as the first-ever nomination of a feature documentary made by a Palestinian. "5 Broken Cameras" was filmed and directed by Emad Burnat, a resident of the occupied Palestinian West Bank town of Bil'in, along with his Israeli filmmaking partner Guy Davidi. A deeply personal account of life and nonviolent resistance in Bil'in, a West Bank village surrounded by Israeli settlements.
$5-10 donation. No one turned away for lack of funds. Community discussion to follow each showing.  FMI: Sami Abed firehockey at cruzio dot com or PIAC