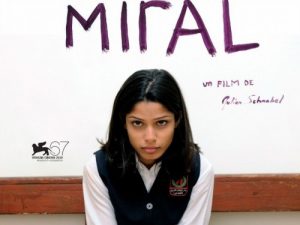 Special Screening of "Miral" to benefit the Middle East Program of the Resource Center for Nonviolence, Sunday April 10, 11:00 a.m., Del Mar Theatre, 1124 Pacific Ave., Santa Cruz $10-$25 suggested donation.
From Julian Schnabel, director of "The Diving Bell and the Butterfly," "Before Night Falls" and "Basquiat," comes "Miral," the visceral, first-person diary of a young girl growing up in East Jerusalem as she confronts the effects of occupation and war in every corner of her life. Schnabel pieces together momentary fragments of Miral's world-how she was formed, who influenced her, all that she experiences in her tumultuous early years-to create a raw, moving, poetic portrait of a woman whose small, personal story is inextricably woven into the bigger history unfolding all around her.The film shows a starkly human search for justice, hope and reconciliation amid a world overshadowed by conflict, rage and war.
Miral's story, which shifts sinuously through layers of time and emotions, begins with the woman who will become her teacher. Hind Husseini (HIAM ABBASS, "The Visitor," "Amreeka"), who in 1948 turned her father's home into the Dar Al-Tifel Institute, an orphanage and school for Palestinian children. What would you do if you found 55 orphans wandering the streets in the middle of a war-torn city? For Hind, the answer was to protect them, draw a line around them and make a safe haven where they could not be harmed, and where they could learn in safety and begin to imagine a more peaceful world.
In 1978, years after Hind starts the school, a 5 year-old girl arrives at the Institute in the wake of her mother's tragic death.This is Miral (FREIDA PINTO, "Slumdog Millionaire"), and this is her story. She will grow up sheltered inside the protective walls of Dar-Al-Tifl, but then at the age of 16, on the cusp of the Intifada, Miral is assigned to teach at a refugee camp where she is awakened to the anger and struggles that seem to be her legacy.When she falls for a fervent political activist, Hani (OMAR METWALLY, "Munich," "Rendition"), Miral is drawn into a personal dilemma: to choose a path of violence or to follow Mama Hind\'s hard-fought belief that education is the only way to pursue lasting peace.
The screenplay is by Rula Jebreal, based on her semi- autobiographical book of the same name.The producer is Jon Kilik. Francois Xavier Decraene is the executive producer.This film is a French-Israeli-Italian-Indian Co-Production of Pathe, ER Productions. Eagle Pictures and India Take One Productions, with the participation of Canal + and Cinecinema. RATED PG-13.
For more information about the film screening, call 831-423-1626, www.rcnv.org,  For more info on the film: www.miralmovie.com