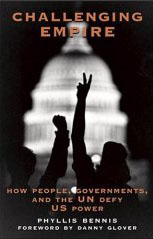 Phyllis Bennis spoke in Santa Cruz on April 30, 2007 on the subject of "Challenging Empire: How People, Governments and the UN defy US power", also the name of one of her books.
Phyllis Bennis is a fellow at the Institute For Policy Studies in Washington DC and the Transnational Institute in Amsterdam. She is also co-founder of the US Campaign to End the Israeli Occupation and was a featured speaker at the Jewish Voice For Peace Conference in Oakland, Ca. on April 28-29, 2007. She is the author of many books including "Before and After: US Foreign Policy & The War on Terrorism", Understanding the Israeli-Palestinian Conflict: A Primer", "Challenging Empire", and "Calling The Shots: How Washington Dominates The UN".
For years Bennis has worked to end the US war and occupation in Iraq, and supports a just and comprehensive peace based on an end to the Israeli occupation of Palestine. She works closely with the United For Peace and Justice anti-war coalition, and has played an active role in the growing global peace movement.
Her books are available from Interlink Books and Publishing.
Thanks to George Cadman for recording the talk, editing it, and posting it on Indybay Santa Cruz for everyone to enjoy.
Please Click Here to download the file direct or Click Here to visit the Indybay article.
"There's no question that the war in Iraq — the U.S. invasion, the occupation — has made Iraq into what it never was before: a center of this kind of global terrorism."
Phyllis Bennis