Four young men speak out out against war in Watsonville.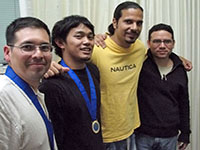 They spoke in Watsonville on May 14 at the First Presbyterian Church on Beach Street. Please see the Indybay article for more information. For more information about war resisters and support networks for them, please check out Courage to Resist. Photo Credit Jeff Paterson
Iraq combat veterans, Agustin Aguayo and Camilo Mejia, were joined by fellow war resisters Pablo Paredes and Robert Zabala at a series of Northern California events May 9-18. One of the stops included Watsonville where the 4 men spoke in local high school class rooms and on local station KUSP 88.9 FM in the morning and at the First Presbyterian Church that evening. Check out this link and click on the May 14th program to hear the show streamed.
Just weeks after being released from a military stockade in Germany for refusing redeployment to Iraq, Agustin Aguayo was joined by fellow war resisters on a greater San Francisco Bay Area speaking tour. Agustin served almost eight months in prison after fighting for nearly three years to be recognized as a conscientious objector. Agustin has explained for the first time why he chose jail instead of redeploying to Iraq.
Camilo Mejia was one of the first Iraq combat veterans to refuse to return to Iraq and served almost nine months in prison for his stand against war. In his upcoming book, "Road from ar Ramadi; The Private Rebellion of Staff Sergeant Camilo Mejía," Camilo gives an inside view of what it felt like to be a soldier on the ground in Iraq. Camilo's book will be available at his events and is now available on amazon.com and soon in your local independent bookstore.
Pablo Paredes refused to ship out in support of the Iraq War at the San Diego Naval Station in 2005. He is now a GI rights counselor and counter-recruitment activist.
Robert Zabala is a Marine recently ordered discharged as a Conscientious Objector (CO) by a federal judge after fighting for nearly four years to be recognized as a CO.
The RCNV GI Rights Hotline & Draft Alternatives Program provides information and counseling for enlisted military seeking legal discharge, and for young people and families concerned about Selective Service registration, a potential draft and comprehensive information about military enlistment. For information contact the program's 7-day-a-week hotline at (831) 359 0202
Click here to download the audio MP3 direct or click here to visit the Indybay article with more info on the men and their cases.